After a successful, month-long competition stint in the United States of America, which included pole positions in three of eight races, national star cyclist Alanzo Greaves' aim is to continue dominating the sport locally starting with the National Championships this month end.
"I went to America to prepare for the National Championships and my aim is to win it that is my main aim right now "Greaves told Stabroek Sport soon after he returned to Guyana yesterday.
"I was in America where the level of competition is much higher than it is over here and I did myself, my club and my country proud so hopefully my form and winning ways continue this month end," declared the Roraima Bikers Club (RBC) product.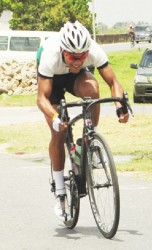 The 23-year-old, who placed fourth overall at last month's 47th Independence Three-Stage Road Race, finished second, fourth, 12th, 18th and 52nd to go along with his three victories in his eight races which took place in Brooklyn, New Jersey, Pennsylvania and Connec-
ticut.
Greaves, who has already chalked up eight signature wins on the local circuit returned from the USA with even more confidence and credits improved nutrition, a laser like focus and a renewed dedication to his training regimen for his success.
"My level of fitness from October last year to now is far different, this is the best form I have ever been in since I started riding, I think I'm riding better because my diet and resting improved also I'm more focused on my training."
Quizzed on his goal after the National Championships, Greaves replied:"I am thinking of returning to the States and prepare for the Caribbean Championships in Septem-
ber."
So what is the star cyclist main long term goal? "I am looking forward to competing in the 2016 Olympics in Brazil but the federation (Guyana Cycling Federation) has to select the cyclists to go on tours in order to qualify for the Games like the Pan American, the CAC and Commonwealth Games."
Will cycling fans see Greaves in action before the National Championships is staged? "Of course" Greaves disclosed…."I will be back in action this weekend."
On Saturday, National Cycling Coach, Hassan Mohamed will pedal off a World Olympic Day programme at the National Park.
For making his successful sojourn a reality, the talented rider thanked Digicel, Bounty Farm, Spads Inc., Toucan Industries, Kevin Jeffrey and Family, proprietor of Humphrey's Bakery and Farm Products, George Humphrey, RBC, Aubrey Gordon and others.
The National Championships will be staged on June 29 and 30.
Around the Web