When National cycling Coach Hassan Mohamed and Guyoil under its Castrol brand teamed up to pedal off the 14th annual Father's Day 50-mile road race yesterday, it was dominated by star cyclist, Raynauth 'Obeah Man' Jeffrey.
Jeffrey rode like a man possessed, crossing the finish line more than  four minutes ahead of second place finisher, Miami, Florida based cyclist, Shane Boodram.
In windy conditions, Jeffrey stopped the clock at one hour, 55 minutes and 31 seconds for the event which pedaled off at the Wales Police Station, proceeded to Bushy Park and ended at the Demerara Harbour Bridge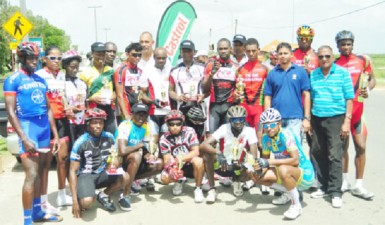 So dominant was Jeffrey's fifth victory of the season that he rode more than half of the race without a challenger in sight.
The bronze medalist at last year's Junior Caribbean Cycling Championships also carted off seven of the eight sprint prizes.
Jeffrey, 19, led Boodram, Warren '40' McKay, his Team Coco's club mate Junior Niles and junior riders Shaquille Agard and Mark Harris into the top six positions.
Last year's winner, Orville Hinds copped the other sprint prize.
The event started off at a fever pitch pace with Hinds and Jeffrey taking it to the rest of the field. The duo rode in tandem and enjoyed the lead until Hinds was dropped at Uitvulgt and eventually wheeled in by the peloton.
The tireless Jeffrey would, however, up the ante and open his lead on the rest of the chasers who tried in vain to catch him.
At the event's completion, Mohamed thanked the sponsor, Guyoil and the cyclists for making the race a success.
The national cycling coach also stated that his next cycling event will be staged in the inner circuit of the National Park on Saturday morning.
Talim Shaw, Ian Jackson and Kennard Lovell were the top three veterans while Linden Bauxite Flyer's Agard, and Roraima Bikers Club mates Harris and Mario King were the top three junior finishers respectively.
The top three Upright finishers were Clyde Jacobs, Lennon Dick and Ozia McAlley in that order while Hazina Barrett was the first female finisher.  Monty Parris was the first over 60-year veteran finisher.
The event saw 52 riders including three females facing the starter's pistol.
Around the Web