GEORGE TOWN, Cayman Islands,  CMC – The education of regional football coaches, club development and professional leagues are among priority areas for Jeffrey Webb, President of CONCACAF, the Confederation of North, Central America and Caribbean Association Football.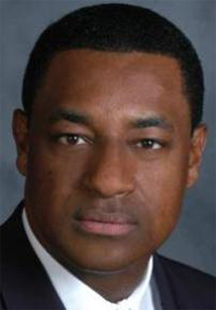 Webb, who recently completed his first year at the helm of CONCACAF, said his ultimate goal is to provide a level playing field for all territories within the confederation.
Webb believes that the education of coaches will play a significant role in the improvement of technical aspects, which countries in the Caribbean lack compared to their North and Central American counterparts.
"We have to focus on education, when you look at the development that's taking place in the USA and Mexico, so much has gone into the development of the technical staff, so when you have educated coaches you have better players and the Caribbean must educate its coaches," Webb told the Jamaica Sunday Observer.
"I think it's important to educate our coaches, and we have put in place now the coaches' CONCACAF qualification, which will start with the D Licence starting in August this year. We are committed to club development."
"I want to also establish and do a strategic analysis of Caribbean football as far as the professional leagues throughout the Caribbean are concerned, and that is something we are looking for from… a development standpoint," according to Webb.
Jamaica is a leader in the Caribbean region, with its new drive in coaching education, having set up the JFF/UTech Coaching School that has graduated nearly 500 coaches at different competency levels, over the past four years or so. The FIFA vice-president, who said the main focus of his tenure is to develop the game, noted that part of that vision is to see the tiny countries of the Caribbean coming up to a plateau where they can be duly measured with the powerhouses.
"I think when you look through our confederation we have 41 countries, and you have probably five stages in different development aspects; when you look at the smaller countries and how they are at different development stages and the vision (now) is to bring all these entities (in line)," said Webb, who heads the high-powered FIFA Task Force on Racism and Discrimination.
"It's important to work with some of the associations, like Mexico, down to the smallest federations in the Caribbean, like the Montserrats, Anguillas and so forth," said Webb.
Around the Web