Travis Persaud has been named captain of the Guyana team which will compete in the upcoming regional U17 tournament which begins on June 29 and concludes on July 8 in Trinidad and Tobago.
The Guyana Cricket Board (GCB) yesterday shortlisted 20 players
Including six standbys to prepare for possible selection on the final team to compete in the tournament.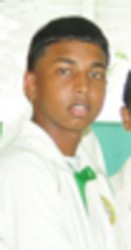 The squad will be coached by former Demerara first-class player Garvin Nedd and managed by Essequibo's, Nazeer Mohamed.
The squad comprises players from the three counties who participated in the recent U17 Inter county limited overs competition.
Essequibo edged the other two counties (Demerara and Berbice), on points to become winners of the rain hit tournament.
Berbice opening batsman, Shimron Hetemyer, who continues to show impressive form, will be the trump card with the bat at the top of the order.
Other players who have shown decent form include Ronaldo Renee, Sherfane Rutherford, Travis Drakes and Parmesh Parsotam among others.
Demerara wicketkeeper, Ryan Adams, who displayed good glove work and batted well, is likely to be the first choice wicketkeeper while the bowling department is expected to be spearheaded by Essequibo U17 captain, Kemo Paul who was adjudged player of the recent inter county tournament.
The squads reads:Persaud (Captain), Hetmyer, Grisean Grant, Travis Drakes, Renee, Brandon Persaud, Parsotam, Paul, Rutherford, Daniel Lewis, Keanu Harry, Navendra Persaud, Permanand Ramdhan and Ryan Adams.
The six standbys are Kasim Khan, Shamar Graham, Leon Andrews, Nathan Persaud, Clitus Johnson and Balchand Baldeo.
Around the Web