Following the sponsorship of record breaking power lifter, Vijai Rahim by the Berbice Bridge Company Inc. (BCCI), president of the Guyana Amateur Power lifting Federation (GAPF), Peter Green has called on other Berbice based entities to support other lifters from the Ancient County.
On Saturday, CEO of BCCI, Omadat Samaroo presented a cheque to Rahim to offset the expenses of a power lifting belt and his airfare for the NAPF North American/FE.SO.PO Pan American/ Caribbean Islands Power lifting Championships in Orlando, Florida from July 1 to 7.
In an invited comment yesterday, Green praised the gesture by Samaroo and also encouraged other businesses in Berbice to follow in the footsteps of BCCI.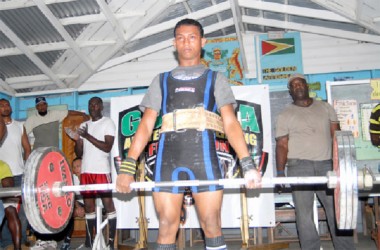 "I am extremely pleased that the Berbice Bridge has taken sports seriously by throwing a lifeline to athletes from Berbice," said Green. "It would be heartwarming if other business entities would extend a similar helping hand to the other lifters that they need to make their county and their country proud instead of just lip service and patting them on their backs when they do well," he added.
"Power lifting has done Guyana proud for the last six years and lifters like Anis Ade Thomas, who still has Commonwealth records standing and the Shewdass brothers, Gumendra and Suraj of Corriverton, have also shown phenomenal form.
The GAPF head pointed out that Gumendra in particular needs the same break that propelled Rahim to stardom.
"Remember Rahim was an unknown lifter and cane harvester who got his big break through exposure.
"I am telling you that Gumendra is world-class at the U18 level," Green declared.
"Gumendra's total done in February puts him in the top three at the World level and he needs the same break that Rahim got," he declared.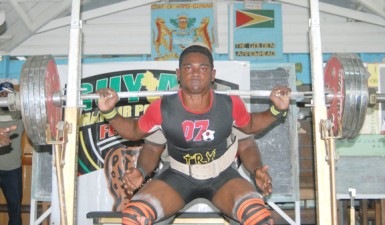 Green opined that most businesses in Berbice are not aware of the wealth of home grown talent in the Ancient County and they also need to move away from the traditional days of just supporting cricket and embrace other disciplines that have placed Guyana on the World map.
"I am appealing for the lifters' sake Gumendra, Suraj, Fabian Ketwaroo all of upper Corentyne and Anis Ade Thomas from Rosignol to kindly assist these Berbicians who are your own to excel at the highest level."
According to the GAPF president, one of the lifters bemoaned that sponsors were more interested in supporting a Car and Bike Show than an athlete who has to represent the nation.
The individual cost per lifter is $USD 1,600.
Guyana is aiming to send the likes of Gumendra Shewdass, Rahim, Winston Stoby, Randolph Morgan John 'Big John' Edwards, Karel Mars, Paul Adams, Kimberly Mars, Ade Thomas, Suraj Shewdass, Nairanjan Singh, Colin Chesney and Ketwaroo to the three in one championships.
The Guyana Men's Team is the defending Caribbean Open Champions with the added bonus of adding the Pan American title to their resume.
The added fact that the three in one championships will be offering three prestigious titles for the lifters from a single lift makes the championships a must participate event, said Green.
Around the Web