Guyanese Paul Ignatius captured a bronze medal on Sunday at the 2013 Pan American Sambo Championship in Panama.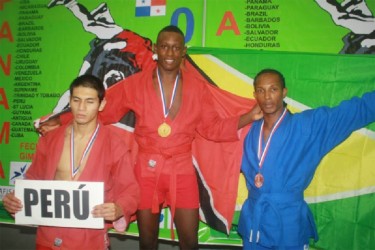 Team Guyana competed against 25 countries from around the world including powerhouse USA, Canada, Venezuela, Brazil, Mexico and other experienced countries, but the two-man team  which also included trainer Carwyn Holland took the fights one by one to see Guyana through to the final day eventually reaching the semi-finals to capture bronze.
An ecstatic Ignatius had much praise for his coach who taught him and introduced him to the art of Combat Sambo as an intense full contact sport
Holland, who is also the pioneer of Sambo in Guyana, was excited over the podium finish and said the historical medal is just proof of what he was saying recently that Guyana can do well in this sport which is the fastest growing and possibly the next Olympic Sport.
Team Guyana returned yesterday and plans to spread the sport to all regions of Guyana.
Around the Web