For some, July is about getting toned to show off their 'summer bodies' but for hardcore bodybuilders and fans it is about four words: The Senior National Championships.
On July 20, Guyana's best iron warriors will converge at the Cliff Anderson Sports Hall (CASH) for this year's competition dubbed 'Bodies of Steel'.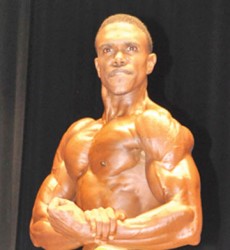 According to Organizing Secretary of the Guyana Amateur Bodybuilding and Fitness Federation (GABBFF), Videsh Sookram, next month's show is gearing up to be the best yet as the quality of the entrants outmuscle their predecessors.
"I can safely say that this year's show will be the best ever", Sookram declared.
"The quality of the 35 athletes which is the most we have ever had so far on stage at once is nothing we ever had in Guyana, the standard will be much higher than years gone by", Sookram assured.
Another reason why 'Bodies of Steel' will be like no other is because the guest poser will be an IFBB professional. Andrew Jemmott, the 6- foot 1 inch, 265 pound mass of striated muscle will be on stage flexing and posing his massive, sculpted frame.
So who are some of the musclemen vying for the crown of Mr. Guyana?
This year's edition is loaded with enough fireworks to blast the CASH straight into orbit.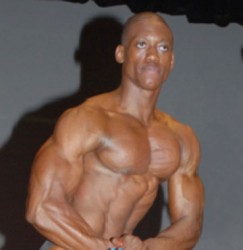 Last year's Central American and Caribbean (CAC) gold medallist and defending Mr. Guyana, Devon Davis returns to the stage but does Davis have what it takes for a repeat with the likes of three-time Mr. Guyana, Clint Duke hungry for his fourth title?
Can Davis repel last year's Hugh Ross Classic champion and CAC bronze medallist, Kerwin 'Chisel' Clarke who is currently preparing in the United States of America? Rawle Green who was first runner up in last year's Mr.
Flex Night is hungrier than ever to be the leader of the pack.
Also standing in Davis' way are the new chiselled sensations, Donell Perry (last year's Novices Champion), Dwayne Mars (this year's Novices Champion) and Orlando Dublin, this year's Mr. Fitness Paradise winner.
Mere points can separate the winner and first runner-up for the title of Mr. Guyana.
The males will compete in the under 132 pounds, under 143, under 154, under 164, under 176 pounds, heavyweight, Master's (over 40 years) and under 21 categories.
The lineup is huge, the competition fierce, and the title is monumental.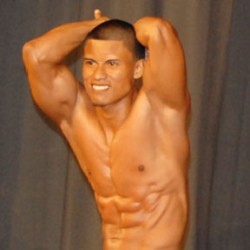 But at the end of the day only one man can walk away with the title. The fans have their favourites and will make their voices heard come contest time. With only a few weeks remaining before the signature bodybuilding event in Guyana gets underway, the excitement is building with every day that passes.
Females will vie for the Ms. Physique and Ms. Body Fitness titles.
Sponsors for the event so far include Fitness Express and Hardware Depot.
Around the Web