The Guyana and Trinidad Mutual, Fire and Life Insurance Group of Companies (GTM) is set to bowl off its 2013 Under-19 Inter-County competition today across various grounds in Georgetown.
The three-day competition being run off in collaboration with the Guyana Cricket Board was originally scheduled for  April but was pushed back because of  persistent rain.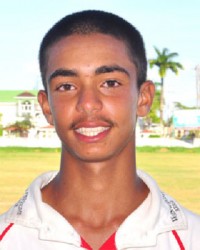 The tournament features four teams: Demerara, Essequibo, Berbice and a President's XI. The teams will compete on a round-robin basis and grounds across the country such as the Wales Community Centre, Everest Cricket Club, Demerara Cricket Club (DCC), Georgetown Cricket Club (GCC) and the Enmore Community Centre will be the battlefields.
Players including Demerara U17 skipper Travis Persaud, Essequibo U17 skipper Kemo Paul, Keanu Harry and Berbice national opener Shimron Hetmyer were originally slated to participate in the competition, however due to their selection for the National U17 team they are not available.
Despite not having these key players, each team still possesses players with the potential of producing match-winning innings.
Missing the services of their key batsman Hetemyer, Berbice will bank heavily on Regional U19 skipper and county Captain, Shawn Pereira who will have great responsibility with both bat and ball.
Fellow teammates such as Martin Pestano-Bell, Ricardo Adams and Gudakesh Motie-Kanhai will supplement the experienced Berbician squad.
Following his MVP performance at the recently concluded U17 inter county tournament which led Essequibo to the title, skipper Paul will be missed terribly for his all-round ability.
Demerara boasts a line-up filled with talented youngsters and the returning left hander, Tagenarine Chanderpaul, who is the likely opener will be the trump card with the bat for Demerara, while Kamesh Yadram will take over the captaincy from Travis Persaud.
The youngster  enjoyed a good stint playing for the Stainsby Hall Cricket Club in England and returns to represent his county in the absence of Persaud.
First class players such as GCC U19 skipper Devon Lord, talented wicket keeper/batsman Kemol Savory and Brian Sattaur among others make up a dangerous Demerara line-up.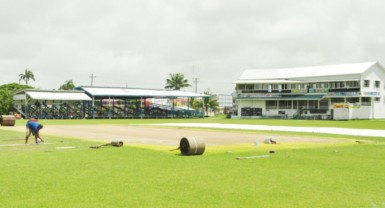 Stabroek Sport visited the Everest ground yesterday in a bid to check whether the pitch and outfield were in good condition for this tournament.
The outfield looked lush and teams will do battle on a newly rolled pitch which boasts a hint of grass with a smooth deck, ideal for a three-day knock.
The tournament is aimed at screening players for National U19 selection.
The first two matches today will see Essequibo playing Demerara at the Police Ground, Eve Leary with umpires S. Crawford and C.P Garnath officiating, while over at Everest, the President's XI takes on Berbice. Umpiring this match are Colin Alfred and I. Moakan.
The matches commence at 10:00hrs.
Teams are:
GT&T Berbice: Shawn Perreira (captain), Nick Ramsaroop, Devin Baldeo, Parmanand Narine, Sharaz Ramcharran, Ashkay Homraj (wkp.), Kevon Jawahir, Derek Narine, David Latchaya, Shailendra Shameer, Gudakesh Motie-Kanhai, Suresh Dhanai, and Romario Shepherd-DeJonge.
The Coach is Wrenrick Batson and the Manager is Julian Cambridge
Essequibo: Ricardo Adams (captain), Ricardo Peters, Mark Gonsalves, Herry Greene, Mohamed Hassan, Rajiv Balgobin, Mahendra Balbadar, Avinash Persaud, Andy Dass, Kesho Rooplall, Dexter Williams, Placid Edwards, Raj Parbattie and Shivindra Hemraj.
The coach is Forbes Daniels and the manager is Nazeer Mohamed.
The President's XI team reads: Akshaya Persaud (captain), Ryan Shun, Rajiv Balgobin, Asif Alehi, Danesh Mangal, Anthony Boohdeo, Martin Pestano-Bell, Yenkini Favourite, Arif Chand, Hakeem Hinds, Nial Smith, Devon George, and Akesh Jagroo.
The coach is Adrian Amsterdam and the manager is David Black.
Demerara: Tagenarine Chanderpaul, Brian Sattaur, Chandrika Persaud, Deonarine Seegobin, Andrew Gibson, Kamesh Yadram (captain), Kemol Savory, Steven Sankar, Devon Lord, Stephon Brown, Dexter George, Bernard Bailey, Kevin Paul and Shivram Persaud.
The coach is Quason Nedd and the manager is Robert 'Pacer' Adonis.
Around the Web