Facilitators for today's captains workshop, Roger Harper and Neil Barry Snr., said the Georgetown Cricket Association's (GCA) initiative to host this clinic is a great way to teach players the importance of captaincy on and off the field.
The one-day seminar will be held at the Muslim Youth Organisation (MYO) club Woolford Avenue and the GCA has shortlisted 43 candidates from across various clubs in Georgetown to participate in an effort to give them the opportunity to learn the ethics and morals surrounding good captaincy on the field and including inside the dressing room.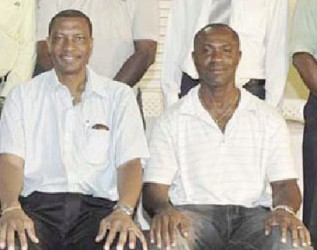 During an interview with Stabroek Sport the two instructors shared their expectations on the aims and outcome of the clinic.
Harper, who has occupied many local, regional and international coaching roles in his career said: "In this clinic we will be looking at the attributes of quality captaincy, strategy, practice and management, along with teaching players the importance of filling out umpire and match report forms which is an important part of the game.
"Team preparation and selection are pivotal roles in captaincy. We want to ensure that they learn from this workshop and the exposure will benefit them," he added.
Some of the players shortlisted include senior national and out of favour West Indies players Christopher Barnwell and Leon Johnson, along with current Georgetown Cricket Club (GCC) Under-19 skipper Devon Lord, Demerara U15 skipper Bhaskar Yadram and a few other experienced players around the circuit.
Barry Snr., a former Guyana wicketkeeper/batsman and current president of the Malteenoes Sports Club, stated that the clinic aims to improve the ethics of captaincy whilst teaching the player's discipline.
"We recognize that there is a need to have such a clinic for players. We hope the individuals selected turn up and take advantage of this opportunity so they can be leaders of men on the field," he added.
Barry also mentioned that this was the first of many other clinics that the GCA will conduct for players in Georgetown.
The clinic is expected to commence at 9:00hrs and players are asked to be early.
Around the Web