In commemoration of World Olympic Day, the Guyana Cycling Federation (GCF) and the Guyana Olympic Association (GOA) collaborated to pedal off the fourth annual five-race BMX programme yesterday at the inner circuit of the National Park.
In the day's events, Raul Small won the BMX boys' 12-to-14 years, two-lap race ahead of Bryton John and Keon Harris in six minutes and 17 seconds respectively while Rashedi Ceres took top honours in the BMX boys' nine-to-12 years, two-lap race ahead of Thuran Garbarran in six minutes and 34 seconds.
Jamal John was victorious in the five-lap, BMX boys' Open race ahead of Christopher Griffith and Cleveland King. However, in the three-lap Open event, Griffith outsprinted John and Adrian Sharma to cart off the winner's trophy.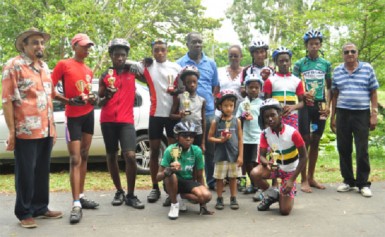 The one-lap BMX boys' six-to-nine year's race was won by Sherwin Sampson while Jeremiah Harrison and five-year old Alexander Leung pedaled in second and third respectively.
The 2008 Olympic Games in Beijing were the first to feature men's and women's individual BMX events.
With that in mind, one of the competitors at yesterday's meet could potentially become an Olympian.
At the completion of the meet, president of GCF, Cheryl Thompson encouraged the young riders to aspire to become champions in their age group, at the junior level and then as seniors as they could perhaps be future Olympians. Thompson also reminded them to be disciplined, hard working, well rounded individuals.
Brief congratulatory remarks were also made by former president of the GCF and lecturer at the University of Guyana, Hector Edwards.
At the prize giving ceremony, National Cycling Coach, Hassan Mohamed thanked president of the GOA, K Juman Yassin for the sponsorship of the event. Mohamed also thanked the cyclists for participating in the meet and making the programme a success.
The cycling coach also mentioned that the 37th annual Teach Them Young programme will commence at the National Park from July 8 to August 30.
Around the Web