"Seeing the Georgetown Cricket Club (GCC) return to its days of glory and old friends and family of the club reuniting is my dream."
So said GCC's head barman, Jailall Ramnauth popularly known to many as "Jai" who recently notched up 25 years of service at the club.
"Jai," has been employed at the club since he was 17 years-old, an opportunity that he credited to his uncle Munilall Ramnauth.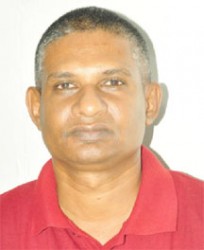 According to "Jai" his uncle came one morning and advised him to make contact with the manager of the GCC club after a vacancy arose for a barman.
Hailing from Macouba Creek, Mahaicony, the teenager noted that despite being just 17, he was not certain as to what type of work he wanted, but was ambitious about finding employment so he immediately took advantage of the opportunity offered to him
Ramnauth recalls his visit to the club the following day and said he was immediately employed.
"After asking me some questions, the manager said they really needed someone and that he was going to give me the job and I immediately started the same day," he recalls.
He also remembers his first mishap on his new job after being sent to lunch by his new employer. Upon his return from lunch he was stopped at the gate by security who questioned him about being at the club.
"I said to them I was a new employee. They doubted me and said to me that they had no knowledge of my employment and therefore I was not allowed to re-enter the premises," he recalls.
After being employed for merely hours, Jai noted that he sat and waited at the gate until he saw a few club members and explained to them what happened, to which he immediately returned to continue his job.
According to Jai, his 25 years at the club was mixed with both good and bad times but he does not regret ever taking the job as he has learnt a lot in his time of service.
Reminiscing on his years at GCC he credited the likes of Jeffrey Fraser, Paul Chan-a-Sue, Lionel Jaikarran and the late Neil Singh, all of whom served as presidents.
A huge lover of the sport, he noted that his success at the club was due to the number of persons whom he publicly expressed his gratitude for their support, assistance and unselfishness during the difficult times.
Jai applauded his father who he said played pivotal roles of both mother and father to him and his seven siblings after he lost his mother at the tender age of two. He also highlighted that his father did a great job and was spouseless for about 13 years before remarrying.
Some years after his employment at GCC, Jai himself got married and has been for the past 17 years. His wife is a businesswoman and his son who intends to play cricket professionally, currently attends the New Campbellsville Secondary school.
The father of one spoke of a period in 2010 where he was very ill and therefore could not work but thanked friends who he still cherishes that aided him in his dire time of need until he was able to regain his strength.
"I was unable to work for about eight months due to an illness back in 2010. However due to assistance from persons such as Radica Gobin, Richard Jodha of Noble House, Les Ramalho, Annand Diyall, Papo, Mr Annand, Ms Indra Ramnauth and Seeta Persaud who showed me love and
supported me, I was able to stand back on my feet."
He also spoke of his most memorable moment which was when he was able to see his 13-year-old son represent the Georgetown Cricket Club (GCC) in the Under-15 level as an opening batsman.
"He is still in a very early stage of his career but is shaping out to be a future West Indies star who will go very far because I intend to continue supporting and working with him as his father and I am committed to investing in my son's career," he stated.
Speaking about numerous interactions with cricketers from Guyana, across the region and internationally, his views remain the same over the years, which is that the greatest cricketer of his time was Richie Richardson.
"I loved watching him play. Richie was the best in my time and still remains my role model," he declared.
In closing the senior GCC staff member said that he wants to see more youngster join the club and that applications for players aged 8 to 12 were sent out  but only five have so far responded, something he hopes changes quickly.
Jai also spoke of the National Stadium which he said is a great pride of the nation and glad that it was built, but on the other side since the erection of the stadium, GCC has not been as fluent financially.
"GCC has the best standard of service in Georgetown and it will be a good thing if it returned to its days as the premier club in the country," he said.
He concluded by expressing his willingness to continue his job which he loves and values so much should he continue to be in good health and strength.
"GCC taught me a lot, giving me the opportunity to see my son play for the same club who made me the man I am today," he ended.
Around the Web