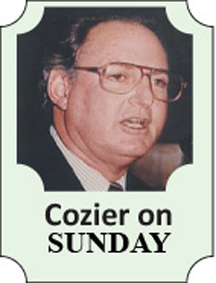 Switching the captaincy for the 50-overs game from Darren Sammy to Dwayne Bravo, chief selector Clyde Butts explained that he and his panel believed it was "best to freshen the leadership of the team in this format."
What became evident over the past three weeks of the Champions Trophy is that it is no use "freshening the leadership" without freshening the team and, in a wider context, the structure of domestic cricket that prepares players for the highest level. It is a maxim that applies to several other participants, today's finalists, the youthful, effervescent, unbeaten India and the settled home team England excepted.
Bravo, the fresh new captain, found himself leading basically the same players in the Champions Trophy who were whitewashed 5-0 in Australia in February under Sammy.
Devon Smith, now aged 32, was recalled after a two-year absence for Kieron Powell, whowould have been in England but for a broken finger. Denesh Ramdin came back for Devon Thomas, six years his junior, Ravi Rampaul for Narsingh Deonarine. Andre Russell was also omitted from the Champions Trophy; he was one of 15 in Australia, there were only 14 in England.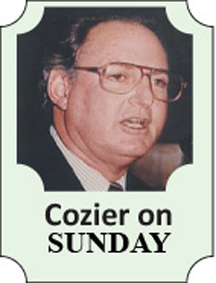 The harsh reality is that no alternatives stand out. It is the batting that remains short of quality and too dependent on two power-hitting enforcers, Chris Gayle at the top and Kieron Pollard in the lower middle order, and the more stylish Darren Bravo, the No.3 yet to make the most of his unquestionable potential.
The selectors could find no exciting young batsman to fit into a suspect middle order, no genuine bowling, rather than batting, all-rounder to sharpen the attack. When they opened the cupboard to search, they found it as bare as Old Mother Hubbard's.
Those who happened to be still on the shelf – Jonathan Carter, Nkrumah Bonner, Kyle Corbin, Leon Johnson and his fast bowling namesake Derlorn, Kirk Edwards – were kept at home for contests against Sri Lanka 'A'. They were also in the 'A' series against India last year and hadn't done enough in the interim to prompt their selection to the 50-overs squads to Australia or the Champions Trophy.
It meant that Ramnaresh Sarwan was retained, his experience, a hundred against Zimbabwe in March and a dearth of younger challengers enough to influence his selection.
At 32, he is now an imitation of the high class player who averaged over 40 in both Tests and ODIs in his prime. He has become a burden in the field. He was dropped for the deciding match against South Africa after scores of 1 against Pakistan and 1 against India as he was after three matches in Australia (scores 0, 0, 12).
He is now likely to see out his career with English county, Leicestershire, a shameful waste of rare talent.
It is an overall state of affairs that requires attention but little has been given.
The regional tournaments are still played on mostly sub-standard pitches, some of them deliberately doctored with the damaging effect of a botched surgery. They cause primary school totals, sap batsmen's confidence and give spin bowlers a false sense of their ability.
In spite of official insistence that coaching should be standardized throughout the West Indies, methods differ from territory to territory, leading to confusion among players when they reach the highest level.
And, for lack of money, the first-class season remains one round, if now culminating with semi-finals and final, rather than two rounds that afforded players a more meaningful number of matches.
It is no consolation but, for different reasons, there are others in the same predicament.
After Pakistan lost all three matches in the Champions Trophy with little contribution from their younger batsmen, their former captains Wasim Akram and Zaheer Abbas called for "drastic" changes.
"Someone has to be brave enough and prepare young cricketers when seniors are not performing," was how Akram saw it. "I don't know if there is lack of ability in our players or there's some psychological problem, but drastic steps should be taken."
Zaheer placed the blame for Pakistan's poor batting (they didn't total more than 170 in their three matches) to the lack of role models for the emerging players.
"We need to think about how to revamp the system to produce quality players," he said. "I don't think any coaching will help until we get players of the highest calibre."
Australia haven't found any new, young batsmen either to compensate for the retirements of Ricky Ponting and Mike Hussey and the chronic back problem that forced captain Michael Clarke out of the tournament. There are also having to deal with problems off the field – involving Shane Watson, their key player, and David Warner.
South Africa were equally diminished by the absence of two of their premier players, former captain and opener Graeme Smith and all-rounder Jacques Kallis. When the two remaining top men, Hamish Amla and AB deVilliers, were dismissed for a single run between them against England in the semi-final on Wednesday and fast bowler Dale Steyn was eliminated by injury, the match was as good as over.
As they have done for a decade, Sri Lanka depend heavily on Mahela Jayawardene and Kumar Sangakkara, whose masterful hundred in the first round against England saw them through to the semi-final. Both have shored up the team's middle order for several years. No successors appeared in the Champions Trophy.
So how come India, in stark contrast, have moved so seamlessly from one generation to the next? Of those in the Champions Trophy, captain MS Dhoni, Virat Kohli and Suresh Raina are the only remaining members of the 11 who won the World Cup in Mumbai two years ago. The great deeds of the earlier legends – Sachin Tendulkar, Virender Sehwag, Gautam Gambhir, Yuvraj Singh, Harbhajan Singh and Zaheer Khan – are now confined to memory, the record books and the Indian Premier League (IPL).
Those who have replaced them have come grounded by a well-structured first-class programme, played on proper pitches and by exposure in the IPL that tests their temperament before big crowds and attaches them to franchise teams alongside the top international stars of the day.
Opener Skikhar Dhawan, leading scorer in the Champions Trophy, had played 82 first-class matches and turned out for three IPL teams before making his one and only Test to date with the highest score on debut.
Another one of the fresh, new brigade, swing bowler Bhuveneshwar Kumar, has 155 first-class wickets to his name. Cheteshwar Pujara, already an established Test No.3 with one double and three single hundreds, has 20 three-figure first class innings besides, including one of 352. And he is not even required for the shorter stuff.
A first-class tournament of such size covering such a vast country requires the backing of a board with a healthy balance sheet – and none is healthier than the Board of Control for Cricket in India (BCCI).
No wonder their team is favourite for today's final.
Around the Web