If Dexter Gonsalves could win fights based simply on confidence, he might wear the national junior lightweight title for many years to come.
To listen to Gonsalves talk, you would think he can outbox pound for pound King, Floyd Mayweather Jr. if they ever matched gloves in the ring.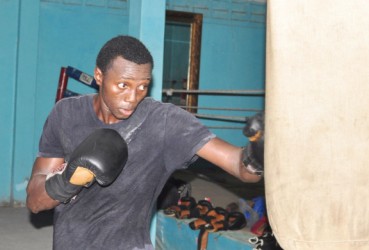 And why does Gonsalves, nicknamed 'The Cobra' have confidence?
Gonsalves, (5-1, 2, 2 KOs) has a good record, a tremendous chin, good power and the notion that he cannot be beaten.
That is the mindset the 26 year-old who will take on former national lightweight ruler, Revlon Lake in the headline bout of the 28th edition of the Guyana Fight Night Pro Am card next Saturday at the Uitvlugt Community Centre Ground for the local junior lightweight crown.
"I'm very positive of a victory next Saturday" Gonsalves declared." I won't predict how I will win but there is no doubt in my mind that I would not win this fight, due to my training and conditioning which is 100% Lake does not have what it takes to defeat me".
So what is the key to victory for Gonsalves who will have a reach advantage over the shorter Lake?
"All I have to do is stick to my game plan and use my jab effectively, that is the aim".
The  Trinidad and Tobago based boxer who has never fought professionally on home soil dubbed next week's match up the biggest fight of his career and disclosed that he will be looking to make a pronounced first impression and become a household name in Guyana.
"The boxing fans can look forward to a smart, skillful display of boxing from me" assured the Forgotten Youth Foundation (FYF) Gym product. Lake, (6-8, 2, 1 KO) is on a three-fight losing streak while Gonsalves has not fought since 2009.
Both boxers will be looking to resuscitate their respective careers. An all-out brawl is envisioned.
The undercard will feature debutants Laured 'Nightmare' Stewart and Romeo Norville.  Stewart will take on Anson Green in a four-round welterweight fight while Norville will face Eversley Brown in a middleweight contest also scheduled for four rounds.
Troy Lewis (4-16, 1, 2 KOs) will also make his return to the ring; he will face the hard-hitting Berbician, Kelsey George in a four-round super middleweight rematch. Lewis defeated the Berbician in his debut bout in September 2011.
George (0-6) will be aiming to turn the tables on Lewis and record his first professional victory while Lewis will be looking for his fifth win since turning pro in 1999.
Former world rater, Leon 'Hurry Up' Moore (29-2, 23 KOs), Errol Trotman, Shahid Alli and his United States of America opponent, Alan Phelan are also slated to do battle on the card. Moore will take on Fraser in an eight-round match up while Alli will face Phelan over four rounds.
The amateur segment will pit Jaime Kellman against Quincy Wright (55-54 pounds), Shaquille Wright will take on Shemar Bumbury (75-79 ), Shaka Moore will match gloves with Stephon Green (105-109) and Quincy Boyce will face Travis Hubbard (118-125)
Entertainment will be provided by Slingerz Family.
Admission is $1500.
Bell time is 20:00hrs.
Around the Web