Cricketers from various clubs across Georgetown on Saturday attended the one day captain's Workshop organised by the Georgetown Cricket Association (GCA) and held at the Muslim Youth Organisation Club (MYO), Woolford Avenue.
The clinic, aimed at targeting young captains and players alike in an effort to teach them the value and importance of being a proactive leader on and off the cricket field, commenced at 9:00hrs.
Conducting this seminar were the seasoned pair of Guyanese, Roger Harper and Neil Barry (senior).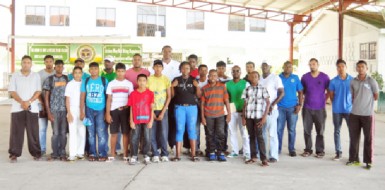 Harper, who had coaching stints with local, Regional and International teams, was supported by fellow GCA member Barry, who is a former national wicketkeeper/batsman and current President of the Malteenoes Sports club.
During the post clinic interview with Harper, the former West Indies all rounder said that he was satisfied with the turnout and reception given by the cricketers along with the sessions which he termed as "very productive.
"The class was very interactive and the youngsters were very receptive to the topics we touched on. We had very productive discussions and an overall good class in the end," he added.
Some of the topics touched by the facilitators were the importance of  good partnerships when batting, the importance of having a good opening partnership, being vigilant as a skipper even when the match has concluded or has not yet played and the overall importance of having a captain who can control his team, while having receptive responses from teammates.
Other discussions with the young cricketers included; explaining crucial executions of the various roles of a captain in and out of the dressing room which all players should adapt.
Students were told about team work and the positive approach all players should have when entering a match, along with tips such as respect and responsibility which not only captains, but each player should practice.
Many of the youngsters present were deeply involved in back and forth discussion with the workshop conductors who constantly relayed questions to random students present in a bid to ensure the multitude followed on the same page.
Harper hinted that a special seminar for junior cricketers will be the programme to be run by the GCA and will commence sometime next week or in early July.
Around the Web