Police Progressive youth Club (PPYC) 'A' team yesterday upset defending champions the Guyana Defence Force to win the 2013 Olympic Day 10K team run to add to their triumphs in 2008 and 2009.
The Police Progressive Youth Club A team completed the distance in three hours and 58 minutes to cop the $60,000  first prize while the Guyana Defence Force settled for second place after finishing the event in four hours flat.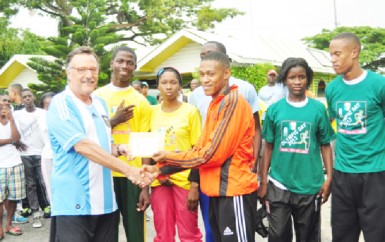 The race started in front of the Young Men Christian Association (YMCA) saw PPYC's 'A' team, Dennis Horatio, Kevin Bayley, Nathaniel Giddings, Jowyne Johnson, Abidemi Charles and Janelle Jonas outclassing the GDF while Christiansburg Wismar Secondary School ended third in four hours and 21 minutes.
The second place team (Cleveland Forde, Carlisa Atkinson, Tyson Bentinck, Ashanti Scott, Jamal Evans and Jemoul Chisholm) and third place finishers (Orlando Adams, Cassey George, Cassie Kirton, Kevin Nicholas, Kellon Nicholas and Stefan Carew) won $42,000.00 and $30, 0000.00.
Argentina's Ambassador to Guyana Luis Alberto Martino blew off the race which attracted 40 starters  and which ended at the YMCA building on Thomas Lands.
Guyana's local distance king Forde, of the GDF, lived up to expectations, finishing first despite injury concerns.
But it was really a team run by Police said their head coach Lyndon Wilson who briefly spoke with Stabroek Sport after the results were released.
Wilson said the race was a better team run than previous years adding that his athletes from the 'A' team, Horatio, Bayley, Giddings, Johnson, Charles and Jonas were focused on timing instead of placement.
"The team was more focused on time than placement and that gave us the edge. With good team preparation we were able to execute our plan," the Athletics Association of Guyana (AAG) Coach-of-the-Year added.
Following closely behind Forde (34:40 seconds) was Dennis Horatio of the PPYC who clocked 36:42 seconds while Horatio's team-mate, Nathaniel Giddings came third in 36:43 seconds and Bayley some five meters behind him in fourth place.
Multi-distance champion Alika Morgan was the first female to cross the finish line. She finished 10th overall. CARIFTA Games gold medalist, Cassey George (43:34 seconds) of CWSS was the second female to finish but placed 19th overall while behind the upcoming junior distance star was GDF track athlete, Ashanti Scott, who clocked 43:51 seconds.
President of the AAG, Aubrey Hutson along with Steve Ninvalle, Deputy Permanent Secretary in the Ministry of Culture, Youth and Sport, complete the course of the 10k as did 77 year-old Phillip Beckles and 61-year-old Franklyn Archer.
Around the Web