By Jeff Trotman
Blueberry Hill displayed greater stamina to defeat the much vaunted Top Twenty Football Club 3- 0 when the Canvas City Vasco Under Twenty Football Tournament finally got going on Sunday at the Bayrock Playfield.
In the first match of a double header, Blueberry Hill seemed to be surviving to half time in their Group A encounter with the score nil all against an enterprising Top Twenty attack but Blueberry Hill managed to score against the run of play in the 43rd minute through Kevon Anthony.
Upon resumption, the Top Twenty players seemed jaded by the soggy, sandy surface that was scarred by play in the first half and wilted to the more physically strong Blueberry Hill team. Shaquille Fraser netted in the 62nd minute for Blueberry Hill while Marvin Sullivan scored three minutes later to make the score 3-0.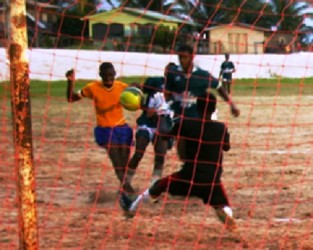 In the second game of the double header, Damion Williams scored a brace in the 58th and 65th minute to help Silver Shatters to come from behind to defeat Amelia's Ward 2-1 in a Group B match. Paul Trotman had scored to put Amelia's Ward ahead in the 10th minute.
The tournament continues on Tuesday 25 June with a Group A match, Milerock versus Winners at the Bayrock Playfield beginning at 4.00pm while Net Rockers will take on Eagles United in Group B on Wednesday at the same time and venue. Both matches were postponed from Saturday because of poor preparation of the ground and heavy rainfall.
The Canvas City Vasco Football Club is collaborating with the Ministry of Youth, Sports and Culture, Region Ten, to run the Under Twenty Football Tournament, which is sanctioned by the Upper Demerara Football Association (UDFA).
All ten Linden football teams that are affiliated to the UDFA are participating in the competition in which the preliminary stage is being run on a round robin basis in two groups of five teams. Group A comprises Blueberry Hill, Botofago, Milerock, Top Twenty and Winners. Group B is made up of Amelia's Ward, Eagles, Net Rockers, Silver Shatters and the host team, Vasco.
The winner of Group a will play the second placed team in Group B and vice versa in the semi finals of the competition, which is scheduled to end on Thursday 1 August with the final.
Around the Web