Fresh off a pulsating two-week training stint dubbed 'the shredder' with Guyana's world renowned bodybuilder, Hugh Ross in New York, Kerwin 'Chisel' Clarke feels  that he is the man to beat at next month's Senior National Championships.
Clarke, who out posed and out flexed all comers at last year's Hugh Ross Classic (HRC) returned to Guyana on Sunday brimming with confidence and with the goal of becoming the next Mr. Guyana at the July 20 event dubbed 'Bodies of Steel'.
"I would not be leaving any stone unturned so I am going out there with the sole intention of being Mr. Guyana. My sole aim right now to is to win the Senior Championships at one shot and with the shape I am in, I definitely feel that I am the man to beat," declared the 2012 Central American and Caribbean (CAC) bronze medalist yesterday.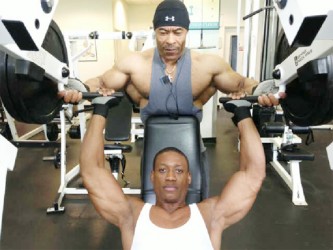 "Some guys are saying that it would be a walk in the park for them but I know a lot of great athletes will be on stage and I know what I am bringing," Clarke added.
What makes the 2011 overall Novices winner so confident is the fact that his award winning physique is becoming more flawless.
"Ross and I managed to push in nine days of rigorous training and dieting. We did some enhancement on my flaws and also sharpened the areas that were more on point so we worked on balancing the structure to look a lot more proportionate on stage.
"My calves and my back were my main weak points that we worked. The first week was a four-day session and the second week was all five days and the rigorous workout sessions were between 55 minutes to one hour and five minutes," the 25-year-old muscleman stated.
Clarke and Ross, the 2010 Mr. Universe Masters Champion, worked out at the famous Brooklyn Sports Club.
So what can the fans at the Cliff Anderson Sports Hall expect from the HRC winner in a few weeks?
"Ever since I started competing two years ago I have never disappointed my fans and this year, especially the female fans can look forward to something special from me," he boasted.
To back up his boasts, the Buddy's Gym product will have to defeat the largest field in senior championship's history.
Standing in Clarke's way are last year's CAC gold medalist and defending Mr. Guyana, Devon Davis and three-time Mr. Guyana, Clint Duke
New sensations, Donell Perry (last year's Novices Champion), Dwayne Mars (this year's Novices Champion) and Orlando Dublin, this year's Mr. Fitness Paradise winner are also in the mix.
The lineup is huge, the competition fierce, and the title is monumental.
But at the end of the day only one man can walk away with the title. The fans have their favourites and will make their voices heard come contest time. With only a few weeks remaining before the signature bodybuilding event in Guyana gets underway, the excitement is building with every day that passes.
During yesterday's interview, Clarke thanked his idol Ross, Dinesh Persaud, Sylvon Gardener, Mervin Moses aka Spongy, Fitness Express, Giftland Office Max, Nigel Supermarket, manager of the Brooklyn Sports Club and everyone that made vital contributions to his success.
Around the Web