Vryman's Erven Secondary School yesterday hammered Manchester Secondary 13-1 as the nationwide Digicel Schools Football tournament continued at the All Saints Scot's School ground,New Amsterdam, Berbice Stephen Boucher was the team's top goal scorer with six goals.
The game was controlled by Vryman's  Erven through the encounter and saw the losers, who lacked ball control and basic football skills under tremendous pressure from the kick off.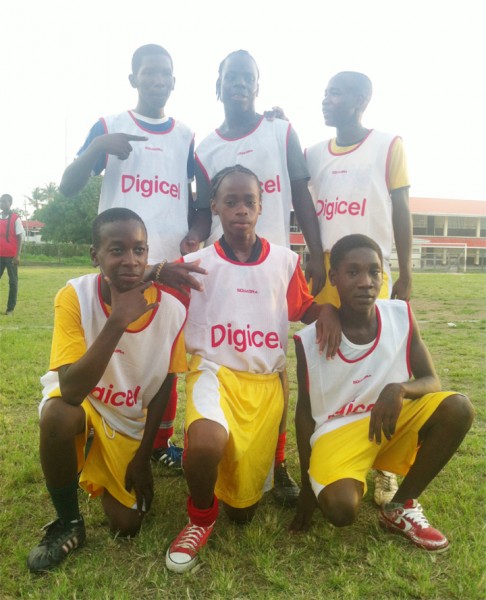 Coach/Teacher of the winning team, Marlon Daniels, told Stabroek Sport that his team improved on their scoring capacity compared to last year.  "We improved a lot in our scoring opportunities and that propelled us to win by such a margin," Daniels told this newspaper in an invited comment.
The team, which was knocked out in the semi-finals last year by Berbice Educational Institute, consists of club players from New Amsterdam United and Hope United Football Clubs, revealed Daniels.
As early as the fifth minute Akeem Haynes credited  his team's account before OJ Green's 26th minute goal left Manchester goalkeeper, Collis Green baffled in the six-yard box.
Kevin Liddell then picked up from where his team-mate left off with a long range shot from the left wing which settled neatly behind the nets in the 30th minute.
Haynes came back on the scene to score his second  goal in the 37th minute while Liddell added another goal to the account  a mere two minutes later.
A few scoring attempts were fashioned by the players from the losing team  but Vryman's Erven custodian,  Carlos Edwards, was quite competent between the uprights and the defenders made  his work  much lighter.
In the second half Stephen Boucher powered the team with his six goals before Burris Griffith netted in the 48th minute.
Boucher ripped up Manchester's nets in the 60th, 70th, 74th, 81st, 83rd and 85th minutes respectively.
Manchester's Garfield Browne scored the lone goal for his team, when he benefited from break through which saw him one-on-one with Edwards in the 69th minute and he duly scored.
Ray Hinds scored his only goal in the match closing Vryman's Erven's  account at 13-1 before the referee's whistle brought an end to the carnage and relief to the losing team.
Around the Web