KARACHI, (Reuters) – Banned Pakistan pace bowler Mohammad Asif was robbed of cash and valuables at gunpoint in Lahore yesterday.
Asif, who was given a seven-year ban – with two of them suspended – by the International Cricket Council (ICC) in 2011 for spot-fixing, said the incident took place near Lahore airport in the early morning.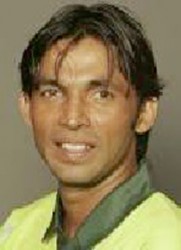 "Although I have been through a lot in the last two years because of the spot-fixing scandal but this incident was a nerve-wracking one, for one because they pointed guns in my face," Asif told Reuters.
He said four armed robbers took 92,000 Pakistani rupees ($930), his wallet containing cards, his passport and his expensive watch.
"It was scary and I have filed a report with the police station of the area," added the 30-year-old.
Asif was released from a British prison in May last year after serving half of a one-year term for his part in bowling deliberate no-balls during a Lord's test against England in 2010. ($1 = 98.9150 Pakistani rupees)
Around the Web