With four days to go before they wing out for international duty, Guyana's record breaking masters powerlifters, Winston 'Little Master' Stoby and John 'Big John' Edwards are both in a winning state of mind.
The two elder powerlifting statesmen may not be part of the reigning NBA champions, the Miami Heat but when the duo competes; they have the same championship or bust mentality.
"Silver and bronze medals are never on my mind," said Stoby who will be part of Guyana's gold medal hunting contingent that will compete at the NAPF North American/FE.SO.PO Pan American/ Caribbean Islands Powerlifting Championships in Orlando, Florida from July 1 to 7.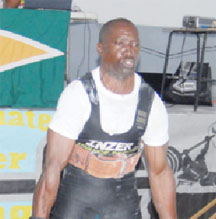 "I am always focused on the gold and the gold only," the gold smith by trade told Stabroek Sport yesterday.
"The championships I am going to, I would not be lifting as a masters, I would be lifting in the Open category but despite that I'm focused on winning my category and helping Guyana to win the men's team title," he added.
The 53-year-old, 74kgs Masters Two deadlift record holder also stated that he was aiming to take his total to 682kgs (1500 pounds) and to officially smash his own world record which stands at 275kgs (605 pounds).
Last year's runner up Sportsman-of-the-Year did better his world record at the Intermediate and Master's Championships  earlier this month by lifting 277.5kgs but internationally recognized judges were not present.
In 2012, Stoby was a double gold medalist at the Caribbean Powerlifting Championships in the 74kg Men Open and Masters M2 aCategories.
Meanwhile, Edwards,  who has been competing in both the 120+kg Men's Open and Masters categories at the Caribbean, North American, Pan American and South American levels with phenomenal distinction will look be looking to add more gold medals to his bulging collection.
"Right now I am ranked at number nine but I am aiming for the gold, If I do a total of 855kgs which is my career best I will be in the top three but I am looking to surpass that," the recurring podium finisher declared.   "I'm looking to put on like 80 pounds on the squat, 30 on the deadlift and about 50 more pounds on the bench."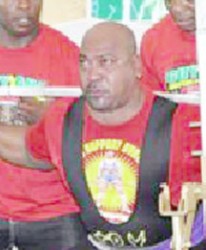 Edward's best lifts are 342.5kgs (squat), 227.5kgs (bench press) and 292.5kgs (deadlift).
Along with Edwards and Stoby the Guyana Amateur Powerlifting Federation (GAPF) is aiming to send the likes of Gumendra Shewdass, Vijai Rahim, Randolph Morgan, Karel Mars, Paul Adams, Kimberly Mars, Anis Ade Thomas, Suraj Shewdass, Nairanjan Singh, Colin Chesney and Fabian Ketwaroo to the three in one championships.
Around the Web