KINGSTON, Jamaica,  CMC- West Indies Head Coach Ottis Gibson and Captain Dwayne Bravo say they are confident the regional side has the strength in the squad to win the CELKON Mobile Cup tri-nation series which starts here tomorrow.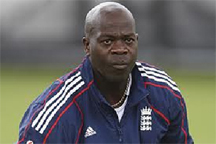 An upbeat home side arrived in Jamaica on Tuesday afternoon and had a full training session yesterday morning at Sabina Park.
They will have another training session this morning and their opening match will be against the Sri Lankans tomorrow at the same venue
"We have a balanced squad with a lot of match-winners, who myself and the coaching staff believe can get the job done," the experienced 29-year-old all-rounder noted.
"As to which players we pick to play each match, that will come down to the opposition and the match conditions on the day."
Like Bravo, Gibson remained confident about the team's chances in the CELKON Mobile Cup, which will feature seven matches in two weeks.
Gibson, who has been at the helm for over three years  and now has played a vital role in the team's progress, said it was now crucial West Indies used their recent disappointments as motivation to succeed.
"We were a bit unfortunate with what happened in England. I think we were starting to shape up to do well in that tournament… it's just to kick on from there," said Gibson.
"It's to put those little mistakes that we made in England, put them away. We felt we had a good opportunity to win that tournament and we want to win this one and prove ourselves right".
The Windies made an early exit from the ICC Champions Trophy in England and Wales a fortnight ago and are aiming for reverse fortunes when they face Sri Lanka and India in the coming weeks.
India are coming off their capture of the ICC Champions Trophy while Sri Lanka reached the semi-finals.
"It is good to be back home and it is the first time we are playing a tri-nation tournament in quite a while so we are looking for positive results and we are looking to win it," said Gibson.
"There's more balance in the side and we are starting to believe a lot more that we can be the team that we want to be. We are starting to show the application and hopefully we will continue to show that development and progress."
Around the Web