The drums were certainly not beating in favour of Belladrum Secondary after Fort Wellington mauled them 8-3 yesterday afternoon with doubles from Cordell Nicholson and Marlon Hardy in the nationwide Digicel's Schools Football tournament at the No. 5 ground, West Berbice.
With good technique from the majority of the players and precise ball control, Fort Wellington had the advantage and made no mistake of feeding off the opportunity in the crucial knockout competition.
The first half was controlled 80% by the Fort Wellington boys and saw five goal entries in the opposition nets. The squad had a few challenges which included conditioning but brushed them off with tactical passes.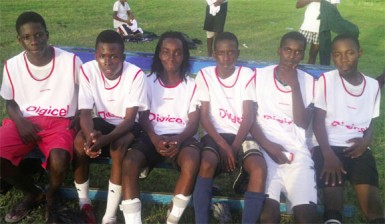 The assistant coach of the winning team, Shurlon Peters told Stabroek Sport that the team played well but indicated that the team has room for improvements. He also said that the preparation phase had a few hiccups.
According to Peters, training will be in full swing for players as they prepare for their upcoming match, "There will be more training sessions to increase on the players' speed and durability," he said.
Belladrum's keeper was not firm in the uprights and the match saw him sleeping on a few goals. The first goal for the eventual winners came through Nicholson, who later returned in the following half to complete his double.
Nicholson credited the account in the 8th minute after benefiting from a profitable pass from his team-mate in the 6-yards box. Gently tapping the ball, it glided right through Belladrum's keeper's legs who attempted to block the ball.
Jason Vossey backed up Nicholson some thirteen minutes later with his goal in the 21st minute. The goal was made possible when Vossey advanced to the ball which rebounded off his team-mate in the 18-yards box.
A few attempts were fashioned by the losers but Fort Wellington defenders gave them a difficult time. The score-line was extended once more for the winners when Darrel Douglas scored in the 43rd minute.
Two more goals were scored before the referee's whistle resonated and in that period Belladrum scored their first goal in the 45th minute through Mark Morris. Wellington's Theron Walcott responded shortly after with his goal in the 45th minute (during the injury time period).
Marlon Hardy in the second half kicked in a double for Fort Wellington in the 52nd and 73rd minutes respectively. His first goal beat the opposing team's custodian who was left stranded as the ball blasted past him.
Yannick Blair positioned on the right flank of the field contributed with his solitary goal in the 58th minute after receiving a pass from one of the defenders which went flying behind the nets.
Nicholson came back on the attack to score his double in the 65th minute while Belladrum's Ozese Halley slammed consecutive goals in the 68th and 90th minutes respectively.
Hardy scored with the last goal for Fort Wellington in the 73rd minute.
Around the Web