Fédération Internationale de Volleyball's (FIVB) head instructor Mauro Hernandez says he is pleased with the support the Beach Volleyball Grassroot Clinic is receiving from local players as they get ready for an elimination match today.
The six-day long clinic is being held by the Guyana Volleyball Federation in collaboration with the world body FIVB at the Ministry of Youth, Culture and Sport ground on Carifesta Avenue. Its objectives are to teach the fundamentals of the sport while encouraging the development of this outdoor format in schools, communities and clubs.
Hernandez, who hails from Venezuela, told Stabroek Sport yesterday that the session is going well. Hernandez said, "The course is going well so far, and every day players are being taught the various important aspects of the game."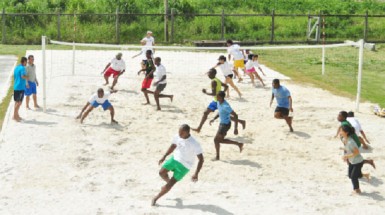 "Wednesday players were taught about serving and receiving, [yesterday] they [were] taught about setting and attacking and [today] players will be taught to block and defend," he added. Hernandez also said that at the close of today's session players will be given a theoretical evaluation test to complete.
Some of the areas of beach volleyball taught so far were the importance of preparation, training and the rules of the game. Hernandez also said coaches play a crucial role in preparing their players for a match as unlike most other sports, coaches are not allowed to be part of a beach volleyball match once it is being contested as it is played on a two on two format.
Today's fixtures include a two versus two elimination match starting at 9am followed by in class and outdoor sessions.
Around the Web