The national under-19 rugby team received a timely donation of 30 jerseys on Thursday
at the National Park from Long Hi Industries ahead of their international duty next week.
The locals are scheduled to wing out to Trinidad and Tobago to compete in the North American and Caribbean Rugby Association (NACRA) 15s tournament which kicks off on July 6. Manager of Long Hi Industries, Shenny Lall made the presentation to skipper, Godfrey Broomes during a simple ceremony after the ruggers concluded their practice session.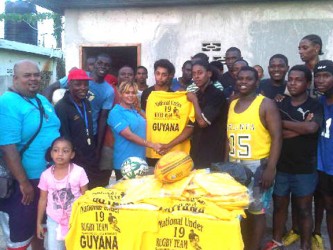 Lall also wished the team success at the championships and added that she is confident of the players returning with hardware.
In an invited comment, Coach of the 29-man squad, Laurie Adonis thanked the Eccles based company for the jerseys and stated that his charges are working assiduously in order to be match ready for the competition just days away.
This year's tournament will see a record number of teams competing; hence there will be a division similar in fashion as the IRB U20, with a Cup competition for the top tier teams and a Trophy competition for the less celebrated teams in the region.
The format of the tournament was decided on Monday and the Cup competition or Group A consists of Cayman Islands, Bermuda and Jamaica, and Group B consists of T&T, Mexico and Barbados.
The fixtures are: July 6 – Bermuda versus Jamaica and T&T versus Mexico; July 7 – TCI versus Bahamas and Guyana versus St Lucia; July 8 – Cayman versus Jamaica and Barbados versus Mexico; July 9 – TCI versus Guyana and Bahamas versus St Lucia; July 10 – Cayman versus Bermuda and T&T versus Barbados; July 11 – No matches – development and planning session workshop.
On the final two days, July 12 – TCI faces St Lucia and Bahamas tackles Guyana then on July 13 – the finals, third in Pool A versus third in Pool B, second in Pool A versus second in Pool B and first in Pool A versus first in Pool B.
Around the Web