Cyclists competing for the prestigious title of National Road Race champion will participate in the time trials today in the hills of Linden.
The six-mile (10 kilometre) trials serve as the official kick-off to the annual two-day Guyana Cycling Federation (GCF), National Cycling Championships.
Time trials are commonly referred to as the 'race of truth' as they require considerable mental concentration and toughness as well as the ability to tolerate intense physical discomfort.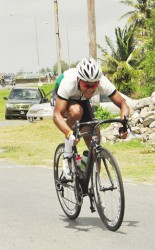 Cyclists compete individually and against only one competitor — the timing clock.  Every split seconds counts. Riders' aerodynamics matched with their physical skills adds up to a simple equation. The fastest man on a bike on any given day wins.
"The level of competition will be very high and a first class standard of racing is envisioned," National Cycling Coach, Hassan Mohamed told Stabroek Sport yesterday.
"Our young cyclists are riding very competitively and so are the seniors so the competition is wide open, you can quote me by saying that this year's championships will be a case of youth versus experience.  "It is an honour and it is prestigious to be the national champion of your country so I'm looking forward to two days of competitive cycling," Mohamed declared.
Some riders of the mix for National Road Race Champion include star cyclist, Alanzo Greaves, last year's junior road race champion, Raynauth Jeffrey, Junior Sportsman of the Year, Paul DeNobrega, last year's senior road race champion, Orville Hinds, last year's Time Trial winner, Jude Bentley and other national cyclists, Robin Persaud, Warren '40' McKay and Marlon 'Fishy' Williams.
Today the Time Trials will commence from Madewini (hill after Splashmins) to the first toll station and return to the point of origin.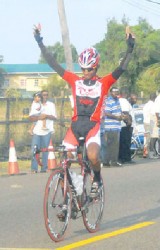 All cyclists are required to be at the starting line at 13:00hrs for registration. Tomorrow, the riders are asked to be at the starting point at Homestretch Avenue at 6:00am for registration of the road race.
The road race will pedal off at 7:00am with the senior riders proceeding to Seweyo and returning to Homestretch for the finish. Veterans and Females will turn back at Kuru Kururu while junior riders will turn back at Long Creek. The rules and regulations for the National Cycling Championship are as follows:
1. All cyclists must produce their license (issued in 2013 by the Guyana Cycling Federation) at the point of registration for the Trials and Road Race tomorrow and Sunday.
2. All cyclists must be attired in the uniform submitted by their respective clubs to the Federation in 2013.
3. Junior cyclists would be subjected to the regulated gear ratio for participation at the National Championships.
4. List of cyclists and appointed Manager should have been submitted to the Secretary, Guyana Cycling Federation, Olympic House 76, High Street, Kingston, on or before 4.00 pm yesterday.
5. Only cyclists registered with the Guyana Cycling Federation would be eligible for participation at the National Championship 2013.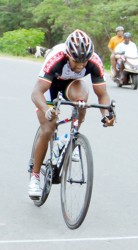 Around the Web