Former junior prodigy, Raynauth Jeffrey continues to establish himself as one of Guyana's premier senior cyclists.
Yesterday the 19-year old national star rider put on an epic display of racing against the clock and earned the title of National Senior Time Trial champion in the hills of Linden.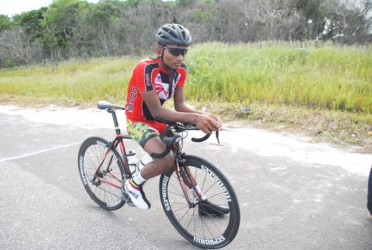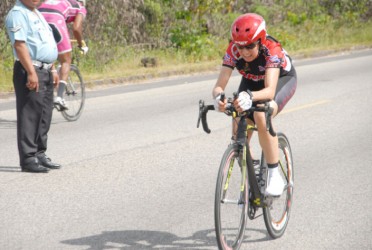 Last year's junior National Time Trial and Road Race champion copped back-to-back titles by stopping the clock in 14 minutes and 31 seconds over the 10km course.
Jeffrey's victory was so emphatic that second place finisher and Team Coco's club mate, Paul DeNobrega race against the clock was one minute slower.
DeNobrega, the Junior Sportsman-of-the-Year, took 15 minutes and 31 seconds to complete the event. The resurgent Marlon 'Fishy' Williams (15:37) completed the podium.
Last year's winner, Jude Bentley placed a distant seventh stopping the clock at 15:59.
Nine senior riders faced the starter's pistol.
Jeffrey will start today's road race as one of the favourites and believes he is in the right form to win a second national title after putting on the junior champion's jersey last year.
"I was looking forward to winning today and I'm looking forward to winning tomorrow's race as well. I hope the results is the same or if not it is a victory for Team Coco's" said Jeffrey after yesterday's race.
Jeffrey would not just be competing against the clock today but the creme de le creme of the nation's cyclists.
Earlier in the day, Jeffrey's other club mate; Michael Anthony took over where he left off and pedaled his way to the junior title.
The 16-year old Anthony's winning time of 15 minutes and 17 seconds was more than enough to earn him the top honours. The ever improving Hamzah Eastman (15:56) and Shaquille Agard (15:59) placed second and third respectively.
England based, Claire Fraser successfully defended her title in a closely contested race among the females.
Fraser won in 18 minutes and seven seconds, just two seconds ahead of first runner up Hazina Barrett.
Naomi Singh was third in 18 minutes and 18 seconds.
Raymond Newton put on a vintage performance and was declared this year's Veteran Time Trial Champion.
His winning time of 15 minutes and 25 was superior to Steven Fernandes (15:35) and Kennard Lovell (18:12).
Today  the National Road Race Champion will be crowned. The riders are asked to be at the starting point at Homestretch Avenue at 6:00am for registration.
The road race will pedal off at 7:00am with the senior riders proceeding to Seweyo and returning to Homestretch for the finish. Veterans and Females will turn back at Kuru Kururu while junior riders will turn back at Long Creek.
Around the Web