Defending champion Abigail McDonald suffered a shock defeat as the national scrabble championships got underway yesterday morning at the Bank of Guyana Roof Garden.
Mc Donald was beaten by little known Robert Williams, the reigning champion losing the match by the whopping margin of 91 points in their first round encounter.

The defeat was the only blip on the radar for Mc Donald who ended the first day with six wins and a spread of 894 which placed her in second position.
Moen Gafoor leads the standings after day one with seven wins and a spread of 1466.
Fred Collins is in third place with six wins and a spread of 630.
The preliminary rounds will continue today and tomorrow and the winner of the tournament will represent Guyana at the World Championship in the Czech Republic.
Meanwhile, the tournament, which is sponsored by local furniture giants, Courts Guyana Limited, was officially declared open yesterday morning by  Gervy C. Harry, Administrative Officer of the National Sports Commission in the presence of GASP President Leon Belony, Courts Marketing Manager Pernell Cummings and the players.
Harry, who filled in for Dr. Frank Anthony, Minister of Culture, Youth and Sport, stressed the importance of scrabble while stating that the game expands the individual's knowledge.
Harry appealed to the local players to play fair and honest and appealed for more persons to participate in the sport.
He also requested that measures be put in place by the association to maintain the discipline in the sport.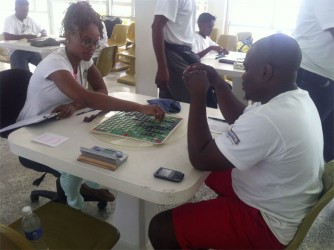 Belony, in brief remarks, said that the presence of the NSC Administrative Officer was indicative of the ministry's support. He also asked the players to co-operate with the Technical Director of the tournament, Elton Chase, whom he recognized as a consummate professional.
Marketing Manager of Courts, Cummings, said his company was proud to be associated with the venture and thanked the association for the opportunity.
Cummings also wished the contestants all the best in the tournament and said the sport was positive as it enhances the players' vocabulary.
In closing he said Courts look forwards to partnering with GASP in the future and also with the winner of the championships.
Colin Chechester, who gave the vote of thanks, expressed gratitude on behalf of GASP and thanked the sponsors, the Ministry of Youth, Culture and Sport and the Bank of Guyana for making the event possible.
Around the Web