KINGSTON, Jamaica, CMC-West Indies' stand-in captain Kieron Pollard has praised his side for showing character in a tense one-wicket win over India in the second match of the tri-nation ODI series at Sabina Park on Sunday.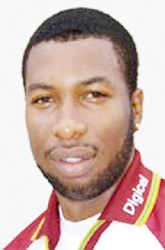 Chasing 230, West Indies lost their ninth wicket with ten needed but Kemar Roach and Tino Best held their nerve to seal their second consecutive win in the tournament.
"At the end, we got over the line and that's what matters," said Pollard, who stood-in for the injured Dwayne Bravo.
"In the recent past, West Indies teams would have capitulated completely, so it shows we have a bit of fight and character in this side".
The modest target seemed challenging for West Indies, who lost wickets due to extravagant strokes, despite being well ahead of the required rate.
Johnson Charles who missed out on his century also perished trying to clear the infield
"We are West Indian cricketers. We attack. If we get into our shell, we get out. That's how we play cricket and it has worked for us," said Pollard.
"At the end of the day you have to back yourself. We have to be happy for victories. We cannot say we are not feeling so good because No. 10 (sic.9) and 11 got us over the line. They are batsmen in the team as well."
It took a level-headed partnership of 10 runs between Roach and Best to end ended India's five-match unbeaten streak in ODIs.
However, Pollard has conceded that a lingering setback for West Indies has been the lack of consistency from the middle order.
"It's just a matter of us doing the things that we haven't done so well, especially in the middle overs." he said.
"As middle-order batsmen, we just have to take it upon ourselves and finish it for the team rather than letting No.10 and 11 (win the match)."
Around the Web