After wrapping up preparations yesterday for the North American and Caribbean Rugby Association (NACRA) under-19 15s tournament which kicks off in Trinidad on Saturday, National Coach Laurie Adonis was confident of his charges excelling at the tournament.
"This is a tournament that we are revisiting after three years so we are not rated in the first group but I'm confident of these guys doing Guyana proud", said Adonis yesterday.
After a three-year absence from the tournament because of the lack of  funding,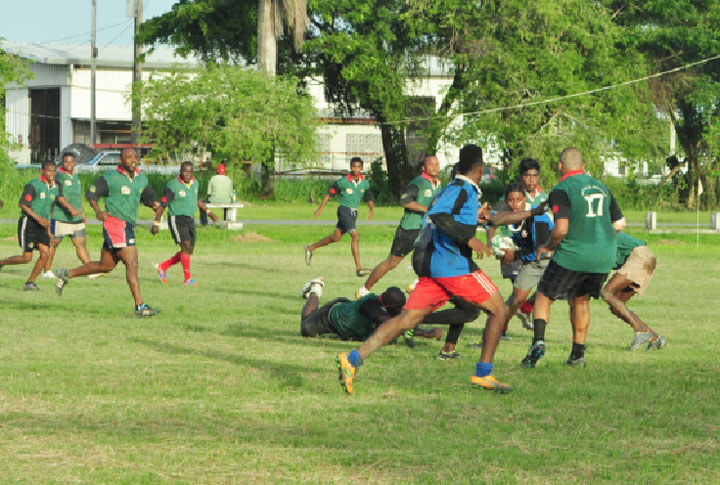 the locals will be seeded with the second tier teams and according to Adonis, the aim is to finish at the top of that group and graduate to the top tier, where Guyana once dominated, for next year's tourney.
"These players only had a month of preparation but they have gelled nicely and were very competitive playing against the national seniors so we are going with intentions of defeating all the other teams in our group", the coach declared.
Adonis also told Stabroek Sport that the coaching staff as well as executives of the Guyana Rugby Football Union (GRFU) are scheduled to meet with Minister of Sport, Dr. Frank Anthony today to discuss receiving funds in the neighbourhood of $2M to make the tour possible.
Failing to attend the tournament will see the union being heavily fined as well as a suspension for the under-19 team.
This year's tournament will see a record number of teams competing; hence there will be a division similar in fashion as the IRB U20, with a Cup competition for the top tier teams and a Trophy competition for the less celebrated teams in the region.
The format of the tournament was decided on last month and the Cup competition or Group A consists of the Cayman Islands, Bermuda and Jamaica, and Group B consists of T&T, Mexico and Barbados.
The fixtures are: July 6 – Bermuda versus Jamaica and T&T versus Mexico; July 7 – TCI versus Bahamas and Guyana versus St Lucia; July 8 – Cayman versus Jamaica and Barbados versus Mexico; July 9 – TCI versus Guyana and Bahamas versus St Lucia; July 10 – Cayman versus Bermuda and T&T versus Barbados; July 11 – No matches – development and planning session workshop.
On the final two days, July 12 – TCI faces St Lucia and Bahamas tackles Guyana then on July 13 – the finals, third in Pool A versus third in Pool B, second in Pool A versus second in Pool B and first in Pool A versus first in Pool B.
Around the Web