Guyana's record-breaking power lifters Randolph 'The Accomplisher' Morgan and Anis Ade Thomas copped gold, silver and bronze medals on day three of the Caribbean and Pan American Powerlifting Championships yesterday in Orlando, Florida, USA.
According to officials of the Guyana Amateur Powerlifting Federation (GAPF) in Orlando, Morgan and Ade Thomas made it a one-two shut out in the 83kgs class for the Caribbean segment.
Morgan has now become a five-time Caribbean champion.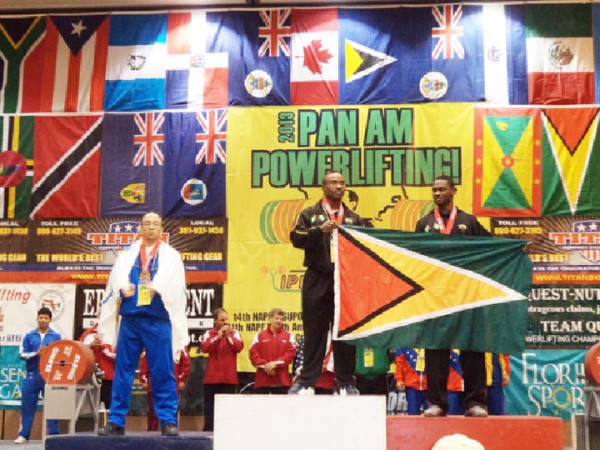 In the Pan American Segment however World no. 4 Jose Castillo (895kg total) ensured there  was no one-two finish by the locals, relegating Morgan (835kg total) to the silver and Anis Thomas to the bronze(687.5kg total).
The Pan Am segment saw over 14 lifters competing for top honours, it was one of the most competitive classes to date.
Despite a silver medal performance, Morgan still managed to smash the Pan American deadlift record set by Castillo minutes earlier (325kgs) with a lift of 330kgs.
Today, John 'Big John' Edwards, Colin 'Mr. Clean' Chesney and Karel Mars will bring the curtains down. This is the first year that Guyana is fielding a full team at the Pan American level, further testimony to the growing popularity of this sport. The men's team is defending their Caribbean title as well.
Almost all records in the Caribbean segment contested by the Guyanese lifters have been broken. Full details will be published upon ratification
Meanwhile, Vijai Rahim became Guyana's first lifter to undergo drug testing. Results will be declared within a month. Last year Rahim underwent drug testing at the South American Championships with results returning negative.
Around the Web