Ricky Shakes, one of Guyana's renowned national players will be off the football scene for a few months after rupturing his Achilles tendon on Tuesday while training with his Boreham Wood team in England.
The 28-year old winger suffered the injury the same day that he signed with his new club. Shakes, who is in pre-season training with his club, completely ruptured his Achilles tendon while performing a yoyo fitness test.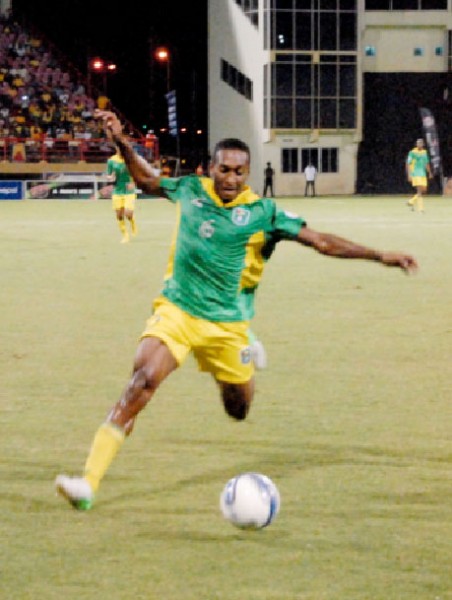 In an exclusive interview with Stabroek Sport yesterday, Shakes said he was at level 33 in the yoyo test and heard a crack in his leg which sent him flat on his face. "As I pushed off I heard a crack and I fell face down to the ground. The manager who was like a few metres ahead also heard the noise," he said. Shakes is scheduled to undergo surgery in nine days' time to repair the tendon. The estimated recovery period for this injury is between 3-9 months.
After the news broke on Thursday, the Brixton-born player, who has made over 110 football league appearances, thanked fans for their support on the Guyana Golden Jaguars Official Group on Facebook.  "Thanks for all your messages and I will be back," he wrote.
Shakes's career started in 2004 at Bolton Wanderers where he made his debut in a Football Association Challenge Cup third round reply against Tranmere Rovers.  His international debut started in 2006 and he was later called up in October, 2011 to represent Guyana at the 2014 FIFA World Cup qualifiers against Barbados and Bermuda.
The 5ft 10in player contributed to Team Guyana in the FIFA World Cup qualifiers when he scored the first goal in the 10th minute at the National Stadium, Providence before Leon Cort's second goal in the 81st minute against Trinidad and Tobago.The crucial game concluded at 2-1 and the win allowed Guyana into the third round of the qualifiers, though they later crumbled 3-1 at the hands at football giants Mexico, and were booted from the qualifiers.
Around the Web