LONDON (Reuters) – In a blur of explosive motion, Marion Bartoli launched into a 101 mph serve and waited for the furry yellow sphere to hurtle back to her side of the court – except it did not and with it came the sudden realisation that she was Wimbledon champion.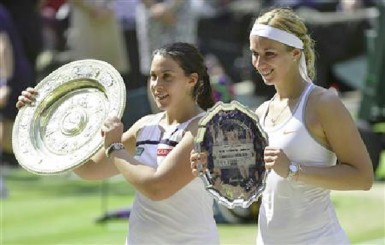 So unexpected was the ace, on her fourth match point, a wide-eyed Bartoli could scarcely believe that the final was over as she collapsed to her knees almost in slow motion.
But the distraught tears flowing down Sabine Lisicki's cheeks and the raised fist pumps and joyful hugs in the French half of the players' box confirmed to Bartoli that she had just become Wimbledon champion with a 6-1 6-4 victory on Saturday.
"Holding this trophy has been my dream since I was six years old," said the 28-year-old Frenchwoman, who clambered through the cheering crowds to hug her father Walter and coach Amelie Mauresmo.
"Finishing with an ace to win Wimbledon, even in my wildest dreams I couldn't have imagined that.
"Honestly, I cannot believe it. I have practiced my serve for so long, at least I kept it for best moment!"
A goal that was 22 years in the making came true for Bartoli following a surreal and chaotic two weeks, where nothing went to plan and Wimbledon hosted a final showdown between two players ranked outside the world's top 14.
Germany's Lisicki, despite being the 23rd seed, had been installed as the favourite having conquered two of the world's top four players, including holder and top seed Serena Williams.
However, for a woman who "had to learn how to walk and run again" three years ago after a serious ankle injury, the final proved to be one challenge too far as she simply froze on the biggest day of her career.
"I was overwhelmed by whole situation, credit to Marion, she handled it perfectly. She deserves it and I hope I get the chance one more time," a sobbing Lisicki told the Centre Court crowd.
While the experience of playing in her first grand slam final provided little comfort to Lisicki, at least the $1.2 million runners-up check will help to soothe her wounded pride.
Lisicki's inability to live up to her nickname of "Boom Boom Bine", with her usually reliable thunderbolt serve and ferocious forehand both misfiring, allowed Bartoli to walk away with the biggest prize in lawn tennis.
But if anyone thought it was a cakewalk for the 15th seed, who romped through the championship without dropping a set or facing an opponent ranked higher than her, her bloodied toe at the end of the 81-minute clash told a different story.
"I played the whole second set with a blister the size of a 25 cent (coin) under my big toe. When I took my sock off, the sock was red of blood," Bartoli said after she finally broke her grand slam title drought at a record 47th attempt.
"I didn't call for the trainer the whole second set, even if I felt like I could barely walk at the end of the match."
What Bartoli did do, however, is rely on her motto of "what does not kill you makes you stronger" as she blocked out the pain to become the first Frenchwoman since Mauresmo in 2006 to hoist the famous trophy and achieve something that she had dreamt of for "millions of hours".
"You go through pain, you go through tears, you go through low moments, and when it actually happens… you feel like you're almost not walking any more on earth. You're really flying," said Bartoli, who like her idol Monica Seles plays double fisted on both sides.
But while Seles failed to add her name at the All England Club's roll of honour, Bartoli's double-handed weapons proved to be a formidable force yesterday.
Lisicki had walked on court listening to David Guetta's club anthem "Play Hard" on her iPod but the message did not seem to stick as she failed to hold serve even once in the opening set.
In fact, had it not been for Bartoli surrendering the first game with successive double faults, the German would have suffered the ignominy of a being whitewashed 6-0.
Bartoli was so focused on the task ahead, that she even toned down her idiosyncratic mannerisms.
Whereas in her six previous matches she had been a whirl of perpetual motion, constantly running and jumping on the spot and shadow swinging her racket, yesterday she was more interested in celebrating her winners with effusive fist pumps.
Lisicki got so sick of the sight of the frequency of those celebrations that she was reduced to a tearful wreck as she went breakpoint down at 3-1 down in the second set.
Unsurprisingly, a netted forehand compounded her misery and when she went match points down at 6-1 5-1 15-40, it looked like she would suffer the humiliation of being on the receiving end of the most one-sided final defeat since Billie Jean King thrashed Australian Evonne Goolagong 6-0 6-1 in 1975.
However, that brought out the fight in her as she dodged three match points in the seventh game and briefly threatened an unlikely comeback before Bartoli slammed the door shut.
While Bartoli was rejoicing her first major win, American twins Mike and Bob Bryan become the first pair to hold all four men's doubles titles at the same time since tennis went professional.
The duo completed the 'Bryan Slam' by beat Ivan Dodig and Marcelo Melo 3-6 6-3 6-4 6-4 to win their 15th major.
Around the Web