Last year's most successful cyclist took pole position in one hour, 55 minutes and four seconds.
Persaud, 38, winner of 15 races last year led Hinds and Jude Bentley into the top three positions of the gruelling event which pedalled off at Wales Police Station, proceeded to Bushy Park and ended at the Demerara Harbour Bridge.
Top veteran, Godfrey Pollydore, and Team Roraima's Marlon 'Fishy' Williams and Mario King rounded out the top six.
Along with carting off the senior winner's trophy and prizes from the sponsors, Persaud also copped two sprint prizes as did Hinds and Bentley.
Stephen Fernandes and Kester Croal took home the other sprint prizes.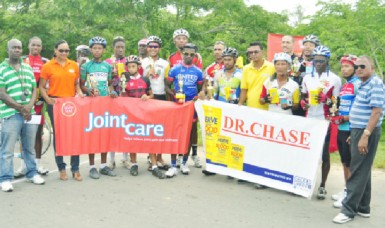 Kennard Lovell, Shameer Baksh and Gary Benjamin were the top three veterans while King, the ever improving Hamzah Eastman and Linden's Kravitz Jeffrey rode in first, second and third in the junior category.
Stephano Husbands, Keon Thomas and Lennon Dick were the top three upright finishers in that order.
Walter Isaacs was also awarded a prize for winning the over-60 category.
In humid conditions, the event started off at a fever pitch pace with Bentley and Fernandes taking it to the rest of the 34 starters from the pistol.
The two worked in tandem and opened up a lead but were eventually caught just before Vreed-en-Hoop by Hinds and Persaud. These four riders then teamed up and opened a sizable lead on the trailing peloton.
At Uitvlugt however Persaud and Hinds attacked and left Bentley, Fernandes and the rest of the field in their wake.  The duo rode cooperatively and never relinquished their lead despite a valiant effort by the chasers
At 200 metres to go and with victory in sight however, team work was expectedly thrown out the window and a fierce sprint for victory ensued but Persaud, blessed with superior sprinting prowess, powered across the finish line, edging Hinds for the top spot.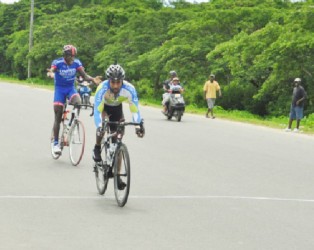 At the completion of yesterday's race, national cycling coach Hassan Mohamed thanked the cyclists and the sponsors for making the event a success and stated that the 2nd annual Malta Supreme 11-race cycle programme which was postponed last Saturday due to inclement weather will be staged this Saturday.
Mohamed also reminded the media that his 37th annual Teach Them Young programme will commence today at 09:00hrs today in the National Park.
Around the Web