KINGSTON, Jamaica,  CMC- Brazil is providing technical and financial support to Jamaica for its inaugural appearance in the FIVB World U-19 Beach Volleyball Championship in Portugal from 11 – 14 July 2013.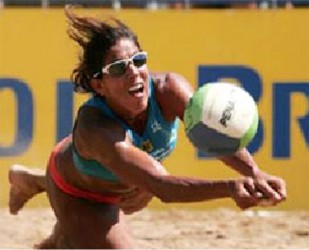 The National Olympic Committee (NOC) of Brazil has announced that it will cover the cost for retired world famous beach volleyball player Jacqueline Cruz Silva to accompany the Jamaica team to Brazil.
The decision comes after NOC Brazil, in collaboration with the Jamaica Olympic Association (JOA) and the Jamaica Volleyball Association (JaVA) arranged for  Cruz Silva , winner of the first women Olympic beach volleyball Championship, to Jamaica to provide technical assistance to the teams from 29 May to 06 June.
The announcement also followed assistance from Brazil to cover the accommodation, meals and ground transportation expenses of the teams' visit to Brazil for preparatory training.
"I could not have planned a better script.
The kindness that we have received from Brazil, to include their NOC, National Volleyball Federation and Embassy in Jamaica, knows no bound," said Major Warrenton Dixon, President of JaVA.
"There are not enough words to coin our gratitude".
Cruz Silva is a retired player from Brazil, who won the gold medal in the inaugural women's beach volleyball tournament at the 1996 Summer Olympics, partnering Sandra Pires.
Rojey Hutchinson and Shavar Bryan make up Jamaica's boys team, while Tionna Graham and Lisanne Roofe comprise the girls team.
Comments

NEW DELHI, India, CMC Superstar Chris Gayle headlines several top-tier West Indies players who will join over 1 000 players in the highly anticipated Indian Premier League auction scheduled for month end.

BELFAST, Ireland, CMC Two-time former 50-overs champions West Indies maybe the highest seeded side in the ICC World Cup qualifiers but they hold no terrors for minnows Ireland.

With only one day remaining for the registration process of the Guinness Greatest of the Streets West Demerara/East Bank Demerara zone, approximately 24 teams have submitted their participation forms for the qualifying stages.

Coach of the already crowned champions of the 2017/18 edition of Cricket West Indies Regional four-day first-class championships, Esaun Crandon, has suggested that there will be little tinkering to the squad set to take on the Trinidad and Tobago Red Force in their final round match, which begins at the Guyana National Stadium tomorrow.

Cricket action in the City is set to take shape January 27 as the Georgetown Cricket Association (GCA) aims to conclude a number of tournaments that would have rolled over from 2017.