PORT-OF-SPAIN, Trinidad,  CMC – India, propelled by impressive swing bowling from Bhuvneshwar Kumar, booked a place in the final of the Celkon Mobile Cup ODI series and will oppose Sri Lanka at Queen's Park Oval tomorrow.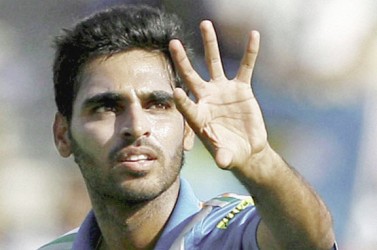 Kumar's timely haul of four wickets for eight runs, from six overs, squeezed India into the play-off and dashed the hopes of West Indies as the world champions defeated Sri Lanka by 81 runs in their rain-hit match on Tuesday .
The match was reduced to a 26-over contest after India, sent in to bat, had their innings curtailed by persistent rain, having reached 119 for 3 off 29 overs. With limited time left in the afternoon, after more than four hours were washed out, Sri Lanka were set 178 to win off 26 overs under the Duckworth/Lewis system.
It meant that India needed to win the game convincingly, and to restrict Sri Lanka to under 167, to secure a bonus point and a place in the final. They achieved it, finished on 10 points, and pushed out West Indies by virtue of a superior net-run-rate.
Paceman Kumar, also named man-of-the-match, gave the Indians early control of the important match as he found the edge of Upul Tharanga's bat in his second over and won a first-ball LBW appeal against Kumar Sangakkara, rocking Sri Lanka at 13 for 2 in the third over.
Kumar , on a pitch offering good bounce and getting the ball to seam around, claimed his third and fourth wickets as Mahela Jayawardene (11) cut to Vijay and Lahiru Thirimanne lofted a drive to Kohli . This quickly reduced Sri Lanka were 31 for 4 in the ninth over and they never recovered.
Paceman Yadav and the Indian spinners, Jadeja and Ashwin, then tightened the grip and the end came quickly as the last six wickets collapsed for 65 runs. Sri Lanka were bowled out for 96 in 24.4 overs.
Earlier, India were sent in and were forced to contend with good bowling from the Sri Lankans as captain Angelo Matthews , Dilhara and left-arm spinner Rangana Herath kept them in check.
Opener Rohit Sharma led a dogged fight-back , after Matthews made the break-through by ripping off the edge of Dhawan's bat in the seventh over, and rescued the innings in mini-partnerships of 49 with captain Virat Kohli (31 off 52 balls) and 35 with wicketkeeper Karthik (12).
Herath accounted for both Kohli and Karthik, producing a remarkable ball that spun past the defensive bat of Karthik and hit his off-stump. Sharma was unbeaten on an important 48 off 83 balls when the rains came and significantly changed the complexion of the match, much to the dismay of West Indies.
Scoreboard
India innings:
RG Sharma not out (83b)                                                             48
S Dhawan c Jayawardene b Mathews (16b)                             15
V Kohli* lbw b Herath (52b)                                                        31
KD Karthik (wkp) b Herath                                                          12
SK Raina not out                                                                              4
Extras (b 1, lb 3, w 3, nb 2)                                                            9
Total (3 wkts off 29 overs)                                                          119
Did not bat: M Vijay, RA Jadeja, R Ashwin, B Kumar, I Sharma, UT Yadav
Fall of wkts: 1-27 (Dhawan, 6.2 ov), 2-76 (Kohli, 20.3 ov), 3-111 (Karthik, 26.6 ov)
Bowling: S Eranga 6-0-27-0(1w)
LHD Dilhara 8 -0-4-0 (2nb, 1w)
A Mathews 5-1-5- 1
L Malinga 3-1-7- 0
R Herath 6-0-32-2
J Mendis 1 -0-4- 0 (1w)
Sri Lanka Innings:
WU Tharanga c Raina b Kumar                                                         6
M D Jayawardene c Vijay b Kumar                                                  11
KC Sangakkara (wkp) lbw b Kumar                                                 0
LD Chandimal st wkp Karthik b Jadeja (54b)                              26
HDRL Thirimanne c Kohli b Kumar                                               0
AD Mathews* c wkp Karthik b Jadeja (11b)                                10
J Mendis b Ashwin (16b)                                                                 13
LHD Dilhara c wkp Karthik b I Sharma                                      6
RKB Herath c Vijay b I Sharma                                                     4
RMS Eranga not out                                                                         2
L Malinga c Jadeja b Yadav                                                            7
Extras (lb 6, w 5)                                                                               11
Total (all out 24.4 overs)                                                               96
Fall of wkts: 1-14 (Tharanga, 2.1 ov), 2-14 (Sangakkara, 2.2 ov), 3-27 (Jayawardene, 6.6 ov), 4-31 (Thirimanne, 8.3 ov), 5-56 (Mathews, 13.6 ov), 6-63 (Chandimal, 15.6 ov), 7-78 (Mendis, 18.6 ov), 8-84 (Herath, 21.1 ov), 9-87 (Dilhara, 23.2 ov), 10-96 (Malinga, 24.4 ov)
Bowling: B Kumar 6-1- 8-4
UT Yadav 4.4-0-28-1 (3w)
I Sharma 4-0-17-2
RA Jadeja 5-0-17-2 (1w)
R Ashwin 5-0-20-1 (1w)
Result: India won by 81 runs
Points: India 5, Sri Lanka 0
Man Of The Match – B Kumar (India)
Umpires : Nigel Llong (Eng) and Peter Nero (WI)
TV umpire – Joel Wilson (WI)
Match referee : Jeff Crowe (New Zealand)
Around the Web