(Jamaica Gleaner) The Press Association of Jamaica (PAJ) says it views with alarm reports that video recordings were seized after an interview with athletes Asafa Powell and Sherone Simpson.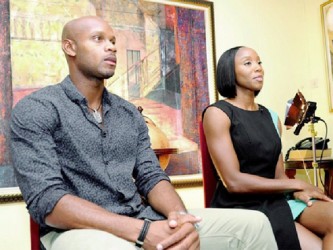 Two reporters were granted the interview with the athletes on Tuesday just over a week after they were both tested positive for a banned stimulant.
It has been suspected that the athletes might have ingested the banned stimulant by way of supplements.
The PAJ says during the interview, when certain questions were raised about supplements, the athletes' attorney Milton Samuda intervened and objected to those questions indicating that the sprinters had not previously agreed to answering them.
Samuda is also chairman of TVJ and a director of Radio Jamaica.  Samuda is said to have made a request and a video recording was handed over.
This afternoon The Gleaner/Power 106 News Centre could not reach Samuda for a comment by cell phones as calls to his number went unanswered.
When his office was contacted, his secretary indicated that he was not there but promised to locate him and connect with The Gleaner.
According to the PAJ, except for threat to life or when there has been a court order, journalists should not hand over notes or recordings to parties outside of their professional supervision.
"The commitment of journalists is to the public and we must use every opportunity to ask important questions without fear or favour," PAJ president Jenni Campbell said in the statement.
"The information relayed must stand up to professional scrutiny.
"It is our responsibility to ensure that information presented to the public is without bias and meets the standard of fairness and balance and in this case we cannot truly vouch that the information coming out of the edited interview met this criteria," she added.
"As guardians of freedom of expression and democracy this compromise of journalistic integrity cannot be tolerated," Campbell said.
She is demanding that Samuda states his position about what she says appears to be a conflict of interest.
Around the Web