After using his sharp physique to slice through the competition and earn the title of Mr. Guyana last Saturday, Kerwin 'Chisel' Clarke is now focused on out posing and out flexing international bodybuilders.
Last year's Hugh Ross Classic winner and Central American and Caribbean (CAC) bronze medalist has his sights set on a gold medal at the region's top event in the sport, the CAC Bodybuilding Championships slated for the Dominican Republic in September.
"My immediate goal is to win that elusive gold medal at CAC Games" said the muscleman yesterday who bested a field at Saturday's Senior National Bodybuilding Championships that included last year's gold medalist at the said CAC games, Devon Davis.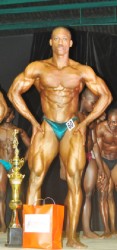 "I also want to achieve my professional card, go internationally and do this country proud" Clarke added.
"I will probably do the Darcy Beckles Show in Barbados in November and after that I want to start doing Muscle Mania shows and compete on a whole different level but if the opportunity presents itself for me to grab a pro card at the CAC games I will definitely go after that".
The 25-year old who burst onto the bodybuilding scene in 2011 by winning the overall Novices title, said he was inspired by mentors like 2010 Mr. Olympia Masters Hugh Ross, CAC gold medalist and Fitness Trainer at Buddy's Gym, Sylvan Gardner, Bruce Whatley, and powerlifter Mervyn 'Spongy' Moses and wants to emulate them.
The East Ruimveldt Secondary School graduate who is currently employed at the Ministry of Foreign Affairs and studying for the CAT (Chartered Accountant Technician) exam opined that every household should adopt a healthy lifestyle.
Clarke also stated that bodybuilders invest a lot of time and money to showcase a well sculpted physique and stated that more needs to be done in terms of sponsorship to reward the musclemen and women for their hard work and dedication to the sport.
The new Mr. Guyana could be rewarded for his hard work if he becomes the new Giftland Office Max Bodybuilding Ambassador.
Clarke is competing with Davis, the Senior Championships first runner up to be the company's poster boy for a year. Should Clarke win, he would be entitled to travel assistance for overseas competitions, 20% off all gym equipment and apparel sold at Giftland, four Giftland Office Max logo jerseys and a branded outfit with footwear and accessories.
During the interview, Clarke thanked Jamie Mc Donald, owner of Fitness Express for making his supplements readily available. He also thanked his family, the proprietors of Buddy's Gym, Manager for the Brooklyn Sports Club, Daniel Mc Beth, Ronald Fagan, Rhon Loncke, Moses, Gardner and others who supported him.
Around the Web