Guyana made a clean sweep of the team titles when the 31st Junior Caribbean Squash Championships concluded at the Cascadia Courts in Trinidad and Tobago yesterday.
The girls' team won its eighth consecutive team title and Team Guyana won its ninth consecutive overall team title.
In the girls team final first on court was Rebecca Low who was up against Alyssa Mullings Caribbean Under 15 Champion. Rebecca would prove to be no match for Alyssa and went down in straight games losing 0-3.
In match number two Makeda Harding came up against Mira Handa. Makeda had lost to Mira in the individual tournament three games to love but on this occasion Makeda was all fired up. Makeda won the first game, then Mira won the second, but Makeda took the third. It then seemed as if the girls' title would be in Guyana's grasp because with a win in this match the Guyana team would be certain to win. However Mira dug deep won the fourth and the fifth games to take the see-saw battle by three games to two.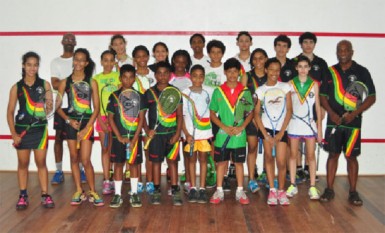 Girls captain Victoria Arjoon was next on court against Jessica Perkins with Guyana trailing in the tie by two matches to nil but Victoria was not to be denied as she was a comfortable winner by three games to nil. Gabby Fraser was then on court against Michaela Denton and here again the match was a pretty easy one as Fraser won in straight games three love. It had now come down to the Under 17 Girls match to decide who would win the Girls team title. Akeila Wiltshire was matched up against Ashley Lynch. This contest was not close at all and Akeila won the match in straight games three games to nil and Guyana had clinched the girls' team title.
In the boys' team final, Ben Mekdeci was first on court against Tahjia Lumley. Ben was by far the best Under 15 player in the tournament and was a comfortable winner by three games to nil. Shomari Wiltshire then came up against Adam Ardito and the Guyana team felt quite confident that with a win here the title would be almost secured. Shomari won the first but Adam came out blazing in the second and won the game. However Shomari held his nerve to take the third and then the fourth to take the match by the score of three games to one. The Under 19 boys' number one strings were on next and Jamaica would have felt that they would pull one back here as Jean Claude Jeffrey was up against Caribbean Under 19 Champion Ashante Smith.  Jean Claude however felt that he had a chance in the match as when they had played earlier in the group match he had just lost by a score of three games to two. Jean Claude won the first two games. However, in the third game it seemed as if Ashante was now warming up and Jean Claude was tiring very quickly. Jean Claude continued to play hard and at nine all in the third it was do-or-die for him. Jean Claude won the next two points and the match three games to love. The Boys Team title had been secured. Steven Xavier then played Julian Morrison and Julian won the match by three games to love. The fifth match between Nyron Joseph and Jake Mahfood was played as a friendly with Nyron winning by two games to nil.
The closing ceremony took place last evening.
On Saturday, the Guyanese had booked their places in both finals of the team events with hard fought victories over Trinidad & Tobago.
In the boys' semi-final Guyana secured wins from Wiltshire who defeated Kobie Khan 3-0, Meckdeci, who destroyed Jonathan Blanc 3-0 and Steven Xavier who defeated Chad Salandy 3-0.
Winning for Trinidad were Mandela Patrick who defeated Jeffrey 0-3 and Nku Patrick who defeated Nyron Joseph 2-3.
In the girls' semi-final Harding defeated Amiee de verteuil 3-0; Amelia Wiltshire defeated Faith Marion Gillezeau 3-0 and Fraser defeated Talia Abdool 3-0.
Trinidad's wins came from Marie Claire Barcant who defeated Rebecca Lowe 3-2 and Charlotte Knaggs who defeated Victoria Arjoon 3-0.
Around the Web