Leading Barbados academic and hockey institution the Combermere Secondary School arrived yesterday to compete in the Guyana Telephone & Telegraph Company (GT&T) Caribbean Kids Hockey Festival which commences tomorrow and ends on Sunday.
The tournament, which will be contested on both indoor and outdoor surfaces caters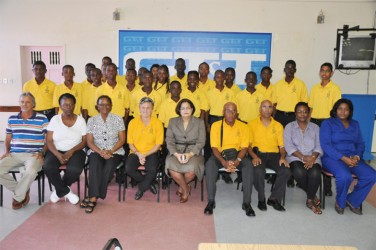 for players between the ages of 13-19 years and has been organised as part of the Guyana Hockey Board's (GHB) development plan aimed at getting more players involved and exposed simultaneously.
The outdoor segment of the festival which will be held at the Georgetown Cricket Club (GCC) ground, Bourda will take place tomorrow and Thursday from 9am-4pm while the indoor activities, which will be staged on Friday, Saturday and Sunday from 13:00 hrs-21:00 hrs will be contested at the National Gymnasium on Mandela Avenue.
Speaking to the media at a brief forum following their arrival, Team Manager Hallam Gittens said while the team has toured the United Kingdom and Argentina before it was a great opportunity for the team to see and experience another Caribbean country.
"The school has a rich history in the sport with over 65 years of tradition. Hockey is a big sport that continues to grow and is well organised in Barbados. It is also seen as a developmental game as it opens a lot of doors," added Gittens.
Coach Cher King, during a brief address, said that while a good brand of hockey is expected from her charges, the experience that will be afforded them during the visit was more noteworthy.
Caribbean heavyweights Trinidad and Tobago are also expected to participate in this event. They will be arriving in time for the indoor segment of the competition and is expected to provide a stern test for the other two nations.
Around the Web