Fresh off their 19-run victory against the Trinidad & Tobago Red Steel in their opening match on Friday at the Guyana National Stadium, Amazon Warriors Head Coach, Roger Harper and Captain Ramnaresh Sarwan, are confident about their clash against the Jamaican Tallawahs tonight.
The two teams square off in the fourth match of the tournament at Providence and both camps yesterday gave insights on their build-up towards this intriguing battle.
During a brief press conference held at the National Stadium, Harper along with Tallawahs Head Coach and former England wicket-keeper, Paul Nixon expressed their thoughts on the encounter.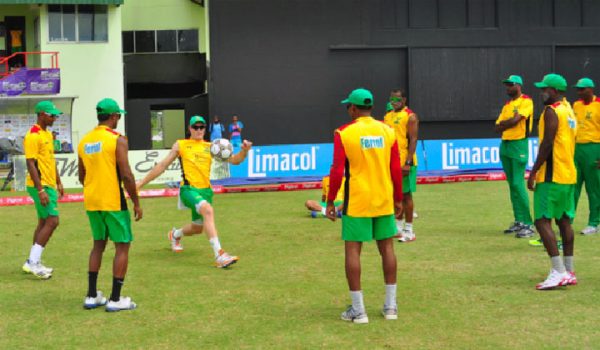 Nixon stated that the team was very prepared and had good sessions at the Sabina Park venue in Jamaica. He noted that it's difficult to change a player entirely, but the main focus was to help improve a player's mindset.
Speaking about the team's level of fitness, Nixon added that his players were fit and their fitness form is "fantastic", as the guys worked closely with David Bernard Snr. whom he noted has a great relationship with the players.
When asked about the form of Tallawahs skipper and opening batsman, Chris Gayle, the coach said that Gayle is a "high class player" and he had some chats with him and he's very excited and has a lot of energy within himself, but stressed that the younger guys need to win games for the team.
He also highlighted that the team has gelled nicely and relished the fact that his team comprises 10 Jamaicans and international players such as Ahmad Shahzad and Jacques Rudolph. He noted that the latter two have played cricket all around the world with different players and teams.
Nixon said that the team will stick to the basics and will adjust to the game depending on situation.
Amazon Warriors skipper Sarwan, declared that he will be hoping to execute plans they have discussed, while working on their areas of concern such as catching which was reinforced by Harper. He said that he was "satisfied with the win" and acknowledged that his team put on a good show in their first match but needed to work a bit on their catching.
The Amazon Warriors batters looked good and positive, the likes of Lendl Simmons and Martin Guptill at the top of the order played aggressively, while their middle order, though a bit shaky, still managed to show signs of form.
The good news for the Warriors is that their skipper has apparently put his bad run of form behind him and was middling a few deliveries in the last match. The bowling department was excellent and needs to vary their line and length a bit more.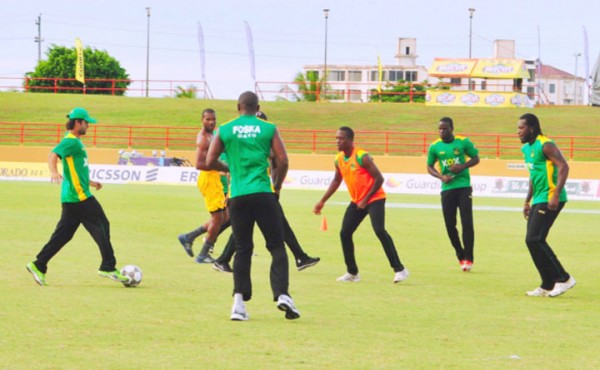 The Warriors will rely heavily on their slow bowlers who did most of the damage against the Red Steel and will seek to work as a unit with Sunil Narine being the obvious leader of the pack.
The Jamaican Tallawahs will look to their skipper Gayle to provide them with a good start, while their international batsmen such as the South African, Rudolph and Pakistan's Shahzad can provide stability and fireworks from their bats respectively.
A host of Jamaican players such as Danza Hyatt, Carlton Baugh, Chadwick Walton, Jermaine Blackwood, Nkrumah Bonner and all-rounders such as Dave Bernard Jr., Akeem Dewar and Andre Russell headline a capable and dangerous batting line up.
The Jamaican bowling unit features, arguably the best spinner ever in test cricket, Muttiah Muralitharan. Nikita Miller who has been in good form since this year's Regional Tournament, South African Test bowler, Vernon Philander and burly fast bowler Andrew Richardson, who recently was named as a replacement for the injured Ravi Rampaul, complete a quartet of  destructive bowlers.
Gayle told Stabroek Sport that T20 cricket is exciting and fun and one needs to keep it simple and aim for a good start. He stated that he is looking to lead from the front.
Gayle noted that the pitch was a typical Guyanese pitch and players will have to adjust when necessary to get used to the condition. When asked if he is intimidated by Narine, Gayle jokingly declared that "it was the other way around" and highlighted that he is the one that bowlers usually are intimidated by.
However, he noted that Narine is the current number one ranked T20 bowler by the ICC and respect must be shown as he has been doing well over the past year.
The Amazon Warriors will be looking to continue their winning ways at home tonight when the action begins at 20:00 hrs.
Amazon Warriors: Sunil Narine, Mohammad Hafeez, Ramnaresh Sarwan, Lendl Simmons, Denesh Ramdin, James Franklin, Christopher Barnwell, Martin Guptill, Krishmar Santokie, William Perkins, Steven Jacobs, Ronsford Beaton, Trevon Griffith, Narsingh Deonarine, Veerasammy Permaul.
Jamaican Tallawahs: Chris Gayle, Muttiah Muralitharan, Andre Russell, Ravi Rampaul, Shaun Marsh, Vernon Philander, Danza Hyatt, Carlton Baugh, Nikita Miller, Jacques Rudolph, Chadwick Walton, Jermaine Blackwood, Akeem Dewar, Dave Bernard, Nkrumah Bonner.
Around the Web