Tonight's 29th edition of the Guyana Fight Night ProAm card  will feature a dynamite quadruple section of professional boxing action at the Cliff Anderson Sports Hall.
Each and every combatant in the four professional bouts was fully convinced that he will come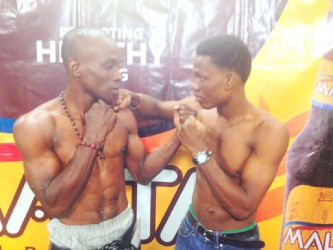 out victorious when questioned at yesterday's televised press briefing at the National Communications Network (NCN) studios.
Some of the fighters  were pretty convincing in `talking the talk'.
Guyana's pound-for-pound king, Clive 'The Punisher' Atwell, (10(5)-0-1) is never short on confidence. His obliteration of six opponents (five wins by kayoes) in the last year turned 'The Punisher' from promising prospect to bona fide champion in 12 months.
The Caribbean Boxing Federation (CABOFE) featherweight, junior welterweight and local featherweight and lightweight champion sees his eight-round, lightweight main event bout with late replacement, Anson Green as another chance to prove what he can do.
"I'm on a mission to punish anybody placed in front of me," declared the multi-division ruler.
"Green is just another hurdle I have to jump to get where I want to go and tomorrow night (tonight) he is just going to pad my record and I doubt whether he is going to go the distance."
Green was not impressed.
"There is nothing that makes me think I would not win this fight. I would not have taken this fight if I was not confident that I can beat Atwell," he said.
Green took the fight on short notice after Atwell's initial opponent, Barbadian Shurwyne 'The Mauler' Marshall pulled out for unknown reasons.
In the junior middleweight co-feature, the rugged national 154-pound titlist, Mark 'The People's Choice' Austin (9(1)-5(2)-1 says he certainly has the goods to defeat the battle-tested former European champion and world-rater, Howard 'Battersea Bomber' Eastman (46(37)-12(2)-0).
"It is a great opportunity for me to show the fans that I am an elite fighter," Austin declared.
"This is the next step I need to get me closer to bigger fights. To take on a strong, experienced boxer (like Eastman) who has defeated opponents all over the world says a lot about me. I'll fight anybody. This fight will put my name out there."
Eastman rebutted:"I'm going to win this match because I have more experience and his style suits me perfectly.
"I'll teach him the art of boxing. The harder he comes, the harder he will fall."
There can only be one winner in each of the fights, so it will be interesting to see who gets the last word.
The undercard will see both Laured Stewart and Romeo Norville in action.
Stewart and Norville, fresh off dominant debut victories last month, will take on Eversley Brown and Derick Richmond respectively. The Stewart/Brown bout is scheduled for four rounds in the junior middleweight division while Norville will oppose Richmond in a super middleweight affair also scheduled for four rounds.
Tefon Green and Travis Fraser, both of whom will represent Guyana at the South American Youth Games billed for September in Peru will highlight the amateur segment of the card.
Green, of Harpy Eagles Boxing Gym will take on Junior Henry of Forgotten Youth Foundation (FYF) Gym in the 110lbs-114lbs affair while Fraser will headline the amateur card against Guyana Defence Force (GDF) Gym product, Linden Daniels.
Daniels and Fraser of Tiger Eye Gym are both lightweights.
The amateur segment will also see Tyron Lashley (Rose Hall Jammers) opposing Michael April (Tiger Eye Gym) in a junior flyweight bout and Kelroy Evelyn (GDF) against Jason Barker (Republican Gym) in a heavyweight match up.
Around the Web