Wismar/Christiansburg Secondary School will oppose Wisburg Secondary in the final of the Linden Secondary Schools U19 basketball championships today at the Mackenzie Sports Club (MSC) hard-court from 16:00hrs.
Travin Dryden and Terron Welch will lead the powerful and unbeaten Wismar/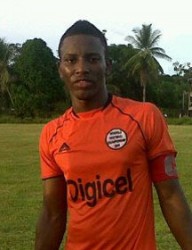 Christiansburg side against the unpredictable and tenacious Wisburg unit led by Taquille Johnson, Aubrey Campbell and Akeem Powers.
In the third place encounter, Linden Foundation Secondary (LFS) powered by Vibert Benjamin and Shaquille Primo will oppose Linden Technical Institute (LTI) who will rely on Marlon Alexander and Gavin Gasper. That match is set to commence at 14:30hrs.
Trophies  and replicas donated by EURON Equipment Repairs will go to the winning team while the second, third and fourth place finishers will receive trophies and replicas donated by Marlon Josiah, Orin Louison and Lennox Allicock respectively.
Other awards inclusive of the Most Valuable Player (MVP) of the final, Best Rebounder, Best Offensive Player and Most Disciplined team have been donated by Maxie Stephens.
The remaining tournament sponsors include Two Brothers Gas Station, Banks DIH Limited and the Haynes Foundation.
Around the Web