Multi-division title holder, Clive 'The Punisher' Atwell (11(6)-0-1) continues to prove to the public that he is more than just hype in the sport of boxing.
On Saturday night at the Cliff Anderson Sports Hall, Atwell easily defeated Anson Green (2-3, 1KO) via a third round KO  in the headline bout of the 29th edition of Guyana Fight Night Pro Am card.
'The Punisher' ended the one-sided affair just 25 seconds in the third round with a right hook to the rib cage that snatched the air from the challenger's body.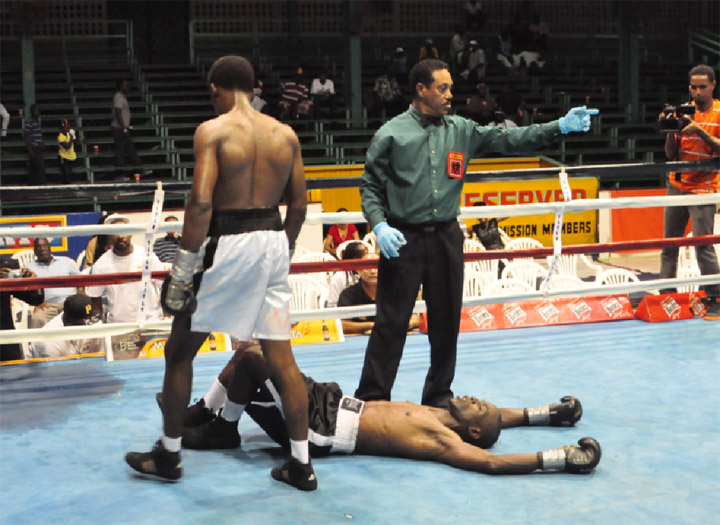 With Green writhing in pain on the canvas, referee Eon Jardine commenced the mandatory eight count but the winded and wounded pugilist could not muster the courage to make it to his feet even several minutes after Jardine waved off the contest.
This was supposed to be the undefeated Atwell's first test after winning the (Caribbean Boxing Federation) CABOFE featherweight title in a bloody battle with Raphael 'El Potro' Hernandez in April.
If you subscribed to that concept, the CABOFE featherweight, junior welterweight and national featherweight and lightweight champion who put on a body shot clinic passed with flying colours.
From the beginning of the fight, it was clear it was just a matter of time before the 25-year old claimed another kayo win with his crisp hand speed and power punches.
Atwell's punching power is getting the job done. He has now stopped six of his last seven opponents and upped his knockout percentage to more than 50 percent.
Meanwhile, former European champion and world-rater, Howard 'Battersea Bomber' Eastman (47(37)-12(2)-0) put on a vintage performance and handed national junior middleweight titlist, Mark 'The People's Choice' Austin (9(1)-6(2)-1) his sixth loss by pounding out a unanimous decision victory in their bruising non-title 154-pound match up.
The crafty 42-year-old counter-puncher, dictated the pace of the eight-round fight to earn the judges' nod over an opponent 20 years younger.
Judges Carlton Hopkinson, Rawle Aaron and Trevor Arno scored the bout 77-75, 80-72 and 77-76 respectively, all in favour of Eastman.
Also on the undercard, new sensation, Laured 'Nightmare' Stewart made light work of journeyman Eversley Brown knocking him out in the first round with a series of power punches that looked like he had cinder blocks in his gloves.
Stewart, 19, who made a successful debut last month, admitted to some pre-fight jitters, but those quickly wore off as he immediately went to work at the opening bell, crossing the ring and throwing a barrage of punches that landed with authority.
One minute and 10 seconds after the bout started the referee was forced to put an end to the ring carnage.
Berbician, Derrick Richmond (1-0-1) scored his first professional knockout with a third-round stoppage of Romeo Norville.
Norville(1-1) was decked twice in the third after receiving vicious left hooks to his fragile midsection by the southpaw Richmond and was not interested in continuing the super middleweight affair.
On the amateur segment of the card, Junior Henry (Forgotten Youth Foundation Gym), Michael April (Tiger Eye Gym), Jason Barker (Republican Gym) and Travis Fraser (Tiger Eye Gym) all recorded victories over their respective opponents.
Henry, April and Fraser pounded out decision victories over Tefon Green (Harpy Eagles Gym), Tyron Lashley (Rose Hall Jammers Gym) and Linden Daniels (GDF Gym) while Barker stopped Kenroy Evelyn (GDF Gym) first round.
As customary, all eight Simon Pures received food hampers from Courts.
The monthly card is an initiative of the Guyana Boxing Board of Control (GBBC) in collaboration with the Sports Ministry and the National Communications Network (NCN). Sponsors of the event include Digicel, Giftland Office Max, Courts, Banks DIH Limited, Assuria Insurance, GuyOil and Ansa McAL.
Around the Web