HAMBANTOTA, Sri Lanka, (Reuters) – Opener Tillakaratne Dilshan hit a sparkling 74 not out off 51 balls to steer Sri Lanka to a six-wicket victory over South Africa in the third and final Twenty20 international yesterday.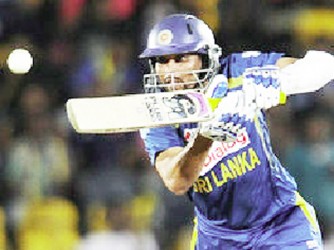 South Africa won the three-match series 2-1 but yesterday's success ensures Sri Lanka remain the number one T20 team in the world rankings.
Dilshan finished the match in style with a lofted sweep for six off Morne Morkel as Sri Lanka reached their target of 164, for the loss of four wickets, in 18.1 overs.
After winning the toss, South Africa hit 163 for three after captain Faf du Plessis, who hit 85, and JP Duminy (51 not out) put together the highest partnership for any wicket against Sri Lanka with 112 off 73 balls.
The pair came together after South Africa lost a wicket to the first ball of the match when Nuwan Kulasekara trapped Henry Davids leg before wicket with a big inswinger.
Du Plessis hit his career-best T20 score off 65 balls with 10 fours and three sixes before he was bowled by Suranga Lakmal.
In reply, Dilshan and Mahela Jayawardene got Sri Lanka off to a great start by putting on 67 off 35 balls.
Jayawardene made 33 before being dismissed by Wayne Parnell but Dilshan saw his side to victory with 11 balls to spare, hitting nine fours and two sixes.
South Africa lost the five-match one-day series 4-1.
SCOREBOARD
South Africa
H Davids lbw b Kulasekara 0
Q de Kock lbw b Mendis 16
Faf du Plessis b Lakmal 85
JP Duminy not out 51
AB de Villiers not out 1
Extras: (lb-1, w-9) 10
Total: (3 wickets, 20 overs) 163
Fall of wickets: 1-0 2-45 3-157.
Did not bat: D Miller, D Wiese, W Parnell, M Morkel, Imran Thahir, L Tsotsobe.
Bowling: Kulasekara 4-0-37-1 (4w), Lakmal 4-0-29-1 (1w), Senanayake 4-0-20-0 (1w), T Perera 1-0-10-0, Mendis 4-0-31-1 (3w), Mathews 1-0-14-0, Dilshan 2-0-21-0.
Sri Lanka
T Dilshan not out 74
M Jayawardene c De Villiers b Parnell 33
K Perera c Parnell b Wiese 1
D Chandimal st de Kock b Imran 14
A Mathews b Wiese 14
T Perera not out 25
Extras: (lb-1, w-1, nb-1) 3
Total: (4 wickets, 18.1 overs) 164
Fall of wickets: 1-67 2-71 3-100 4-123
Did not bat: L Thirimanne, N Kulasekara, S Senanayake, A Mendis, S Lakmal.
Bowling: Tsotsobe 4-0-49-0 (nb1), Morkel 3.1-0-33-0, Parnell 3-0-37-1 (w1), Imran 4-0-20-1, Wiese 4-0-24-2.
Result: Sri Lanka won by six wickets.
Series: South Africa won 2-1
Around the Web