Top Georgetown football teams Alpha United, Camptown, the Guyana Defence Force, Fruta Conquerors, Western Tigers and Pele are among 16 teams who will battle for the $2m first prize when the inaugural Goal for Gold tournament kicks off on Saturday.
The tournament was officially launched yesterday by Slingerz Football Club in partnership with the National Association for Women Football (NAWF) at the Ansa McAl boardroom, Beterverwagting yesterday under the Stag brand.
Simultaneously to the male 16 team tournament, a six team female tournament will also be played as the organizers attempt to showcase women's football.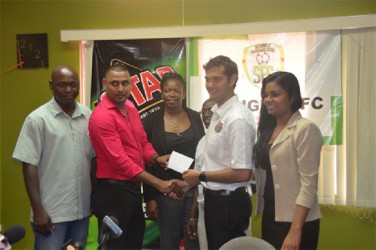 "The Women's Association, in partnership with Slingerz FC, will be working to play men and women games together to help develop football. We must commend the sponsors Ansa McAl as well as Slingerz for making the Women's Association's plan for development a reality," said Vanessa Dickenson, president of NAWF.
Public Relations Officer (PRO) of Ansa McAl, Darshanie Yussuf in brief remarks, said:"We are happy to sponsor the tournament. One of the reasons we came on board was because of the uniqueness of the event. We are happy this group brought this concept together as Women's football has the talent but is not getting to showcase it."
Stag Brand Manager John Maikoo noted that the tournament presented another great opportunity for the company to work with the West Demerara club, adding that he expected the tournament to be a grand success.
Tournament co-ordinator and General Manager of Slingerz FC, Colin `BL' Aaron, said: "We are happy with the collaboration and I must thank the sponsors for coming on board. The initiative is to help develop and promote Women's football. In this event we will have the Women's tournament being played alongside the Men's. We want to ensure the Women's game is showcased in front of a large crowd."
The confirmed participating teams in the male section are Alpha United, Camptown, Riddim Squad, Guyana Defence Force (GDF), Fruta Conquerors, Pele, Western Tigers, Topp XX, Netrockers, Milerock, Seawall United, Uitvlugt Warriors, Den Amstel, Rosignol United, Grove Hi-Tech and Slingerz FC.
In the Women's tournament, Berbice will field two teams while Georgetown, Linden, West Demerara and Bartica will each field one team.
The winning male club will receive $2m while the second, third and fourth place finishers will earn $1m $500,000 and $300,000 respectively.
Around the Web