BEAUSEJOUR, St. Lucia, CMC- Antigua's Hawksbills got their first taste of victory in the inaugural Limacol Caribbean Premier League, a convincing 33-run win over St. Lucia Zouks at the Beausejour Cricket Ground here Tuesday.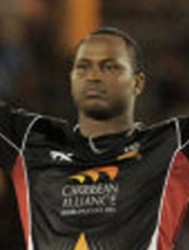 Chasing 167 for victory the Zouks were restricted to 133 for eight off their 20 overs. Tamil Iqbal topscored with 33, while Liam Sebastien was undefeated on 25 and Andre Fletcher scored 20 at the top of the order from seven balls.
Zouks lost wickets at regular intervals with the Hawksbills captain Marlon Samuels bagging three for 10 off his four overs which secured him the man of the match award.
The Hawksbills were sent in by the Zouks and after 10 overs had rattled up 83 for one with Kieran Powell rushing to 27 off 16 balls. His opening partner Johnson Charles hit 36 off 30 balls. Charles was second man out bowled through the gate driving extravagantly at Albie Morkel.
Ricky Ponting, who survived  being run out after the television umpire ruled he was obstructed while attempting a quick single in an over bowled by Albie Morkel eventually pulled the same bowler to Devon Smith at mid wicket when on 20.
Devon Thomas played positively in the middle overs striking a quickfire 32 off 18 balls with three fours and two sixes.
Morkel was the most successful bowler for the Zouks with two for 27 from his four overs.
SCOREBOARD
Antigua Hawksbills:
Johnson Charles        b   Albie  Morkel                                           36
Kieran Powell  c   Devon Smith  b Garey  Mathurin                  27
Ricky Ponting   c  Devon Smith  b  Albie Morkel                       20
Marlon Samuels   run out  (Sammy)                                            12
Devon Thomas     c   Devon Smith    b  Shane Shillingford      32
Justin   Kemp  not   out                                                                   13
Kemar Roach   c   Devon Smith    b  Darren   Sammy                  5
Rahkeem Cornwall    not  out                                                              8
Extras    lb 3  w 10                                                                              13
Total      6wkts (20 overs)                                                            166
Fall of wickets;  1-35, 2-86, 3-93, 4-113, 5-148, 6-154.
Did not bat: Dave Mohammed, Sheldon Cotterrell, Gavin Tonge.
Bowling: Darren Sammy  4-0-29-1 (2w), Albie Morkel 4-0-27-2 (1w), Garey Mathurin 4-0-31-1 (2w), Shane Shillingford  3-0-21-1, Liam Sebastien  1-0-12-0, Tino best  4-0-43-0- (3).
Saint Lucia Zouks:
Tamim Iqbal      b   Marlon Samuels                                           33
Andre Fletcher  c   Marlon Samuels  b  Kemar Roach               20
Herschelle Gibbs  b  Gavin Tonge                                                     5
Misbah Ul-Haq  c   Devon Thomas  b  Marlon Samuels              8
Devon Smith  b Rahkeem Cornwall                                               12
Albie Morkel  c  Sheldon Cotterrell  b  Devon Thomas               0
Darren Sammy c  Kemar Roach b Marlon Samuels                     4
Liam Sebastien  not out                                                              25
Shane Shillingford b Sheldon Cotterrell                                    4
Garey Mathurin  not out                                                          12
Extras:  lb1 w7 nb2                                                               10
Total    8   wkts   (20 overs)                                                             133
Did not bat:Tino Best
Fall of wickets : 1-29, 2-48, 3-69, 4-82, 5-82, 6-85, 7-90, 8-99.
Bowling;  Kemar Roach  4-0-40-1 (1w), Sheldon Cotterrell 4-0-17-1 (2w), Gavin Tonge  3-0-16-1, Marlon Samuels  4-1-10-3, Rahkeem Cornwall 1-0-13-1, Devon Thomas 4-0-36-1 (2nb 2w)
Toss: St.Lucia Zouks who fielded:
Result; Hawksbills won by 33 runs.
Points  Hawksbills   2    Zouks   0:
Man of the match;  Marlon Samuels:
Around the Web