MOSCOW, Russia, CMC-Jamaican 400m athlete Ahkeem Gauntlett was arrested and charged for theft by police in Arkansas, USA, in June, days before competing at Jamaica's National Championships, The Gleaner has reported.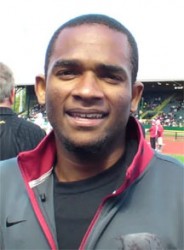 Details of Gauntlett's arrest along with his personal information are currently available on several state and county corrections and criminal records websites and resources, the paper said. Gauntlett, who finished third in the men's 400m final, secured a spot on Jamaica's team to the IAAF World Championships starting in Moscow this weekend but pulled out citing personal reasons.
"At this point we can only repeat that the athlete withdrew from the World Championships team because he told us he had some personal matters to deal with," Dennis Gordon, Press Liaison representative for the Jamaica Athletics Administrative Association , in Moscow for the games, told The Gleaner.
"The offense that he is accused to have committed happened before our championships and we were not informed of it."
Gauntlet represented Jamaica at the Central America and Caribbean Championships in Athletics in Mexico last month and attempts by the local media to contact him have been unsuccessful.
Around the Web