Guyana's Pre-cadet table tennis players are undergoing intensive training sessions ahead of Saturday's opening of the eighth annual Caribbean Pre Cadet Championships to be held at the Cliff Anderson Sports Hall. Some seven countries including hosts Guyana are expected to participate in the championships which end on August 15.
The Pre-cadet players have been training for some time under the eyes of national coach Linden Johnson  and former Caribbean boys junior champion Idi Lewis and former national player Melissa Dow and the Guyana team is expected to challenge for medals despite the presence of regional powerhouse Santo Domingo.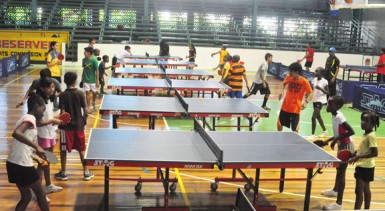 The Guyana teams will be spearheaded by Miguel Wong and Kristie Lopes while other players such as Neveah Clarkston, Salanas Jackman, Davonna Bess, Priya Ramdhani and Simran Bissu (girls) Jeremy Singh, Tyriq Saunders, Khalil and Kaysan Ninvalle, Terrence Rausch, Khalid Gobin and Nyron Bissu are some members of the boys team.
Around the Web