EINDHOVEN, Holland,  CMC- Top Trinidad and Tobago swimmer George Bovell captured the gold medal in the 100 m individual medley in a new national record as he began his short course World Cup in Holland on Wednesday.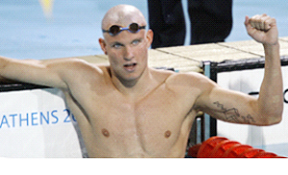 Bovell's first place on the first day of the two-day meet at the Pieter van den Hoogenband Swimming Stadium in Eindhoven comes four days after capturing a second bronze medal at a FINA World Championship in Spain. The 30-year-old Bovell, swimming out of lane seven, was third at the half-way mark of the race with a split of 23.62 seconds after a slow reaction time of .69 seconds. However he improved drastically over the final 50m to take gold in 51.15 seconds for 974 FINA points.
Second was his World Cup rival, Australian Kenneth To in 51.31 who had led at the half. Russian Vladimir Morozov, who had the fastest reaction time, got bronze in 51.50.
Around the Web