PORT-OF-SPAIN, Trinidad,  CMC-Dwayne Bravo, whose captaincy skills have been under intense public scrutiny lately, has appealed to cricket fans to exercise patience with him while he matures in his new role.
"80% of the fans will be for you when you're going through a rough patch," declared Bravo, West Indies ODI captain and skipper of Trinidad and Tobago Red Steel in the current Caribbean Premier League.
"The other 20% would say otherwise, but I just need a win and some good individual performances to convince everyone otherwise".
Bravo's captaincy skills have been criticized following disappointing home series against India, Sri Lanka and Pakistan, which also saw a dip in the all-rounder's form.
Red Steel's most recent CPL loss to Jamaica Tallawahs has also reignited talks over Bravo's ability to captain, as Trinidad's dismal form has been compounded by three consecutive losses.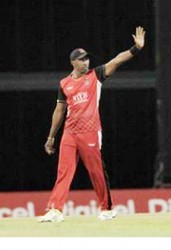 "I know fans in the region, and in Trinidad, may be questioning my ability to lead, but I ask them to bear with me. I'm growing as a captain," pleaded Bravo.
"I see it as a learning curve and a patient process. It's not easy to adapt but I am trying. I'm confident I'm the man to do the job and I just need folks to rally around me."
In Jamaica's five-run victory, Bravo bowled the 19th over and was slaughtered by Vernon Philander and Danza Hyatt for 26.
He has been chided for not giving preference to the likes of Samuel Badree (0 for 7 in two overs) and Suliemann Benn (0 for12 in two overs) to finish at the death of the innings.
"I know we have good bowlers but I had good figures up until that point and I was confident as the most experienced bowler," said Bravo.
"I've been in this pressure situation many times [before] and pulled it off, but unfortunately today, it didn't work out".
Around the Web